I placed my camera and smart phone down.  By this point I already captured some impressive scenic shots to keep the memory of the day of my most recent adventure through Alaska alive for years to come. Now I just wanted to appreciate the view with my family and be present to enjoy the moment.  I took a sip of red wine and peered out over the balcony listening to the sounds of another calving glacier moment. Then aided by binoculars took an even closer look. Out here, in the stillness of the vast landscape it can be too easy to lose sight of the enormity of the moment. Hubbard Glacier is 6.5 miles across and is as high as 30-40 story building. In short, it is massive.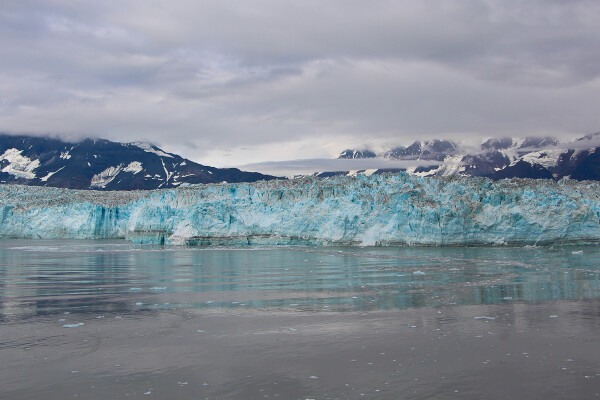 I'd pick up my camera again at some point, I couldn't help myself, but I knew balance is needed. Of course it is not always easy with a love of travel photography, but luckily the Island Princess would "park" here for over an hour.
And this was not my first calving experience either. On my first Alaskan cruise when  visiting Glacier Bay I witnessed the spectacle too.  With that as our next scheduled spot on the cruise itinerary, I did expect another chance, but weather can always alter expected plans in Alaska, so definitely enjoy the views when you can.  In my case, Glacier Bay didn;t disappoint, but sheer size was nothing compared to my time in Yakutat Bay viewing the river of ice named for the founder of National Geographic Society – Hubbard Glacier.
The cruise took place after a week long Alaskan adventure on land. The one way sailing lasted seven days from Whittier (outside Anchorage) southbound to Vancouver with its initial stops to experience Glaciers at Yakutat Bay and Glacier Bay National Park before the popular cruise ports of Skagway, Juneau, and Ketchikan.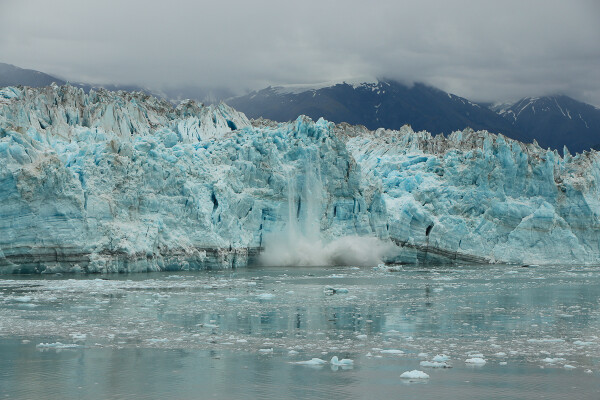 Alaskan cruises were canceled in 2020, but for those interested in planning  now might be the time to secure the best balcony room possible for 2021.  Yes, I recommend a balcony. My family secured the aft (rear) corner balcony in 2019 and it enabled near panoramic views of the Alaskan wilderness.  Coupled with comforts and space on the wrap-around balcony it made the sailing and specifically the scenic viewing unforgettable. Definitely consider it for a multi-generational family adventure, someone in the family needs to host the Glacier viewing parties and order room service.
If you have any questions about my Alaskan adventure, or want advice scheduling yours, feel free to ask your questions in the comments. I am happy to help.
Stay Adventurous y Stay Luxurious, Craig