Sometimes it is the beauty of the sunset itself, other times the beauty is in the moment and who we share the sunset with and sometimes it's both. Guest blogger Anna shares one such sunset memory from Zurich, Switzerland for this week's Sunset Sunday……enjoy.

I have been living in Switzerland for nearly two decades. But it was not until I took up photography as a hobby that I realised how special sunset was in Zurich.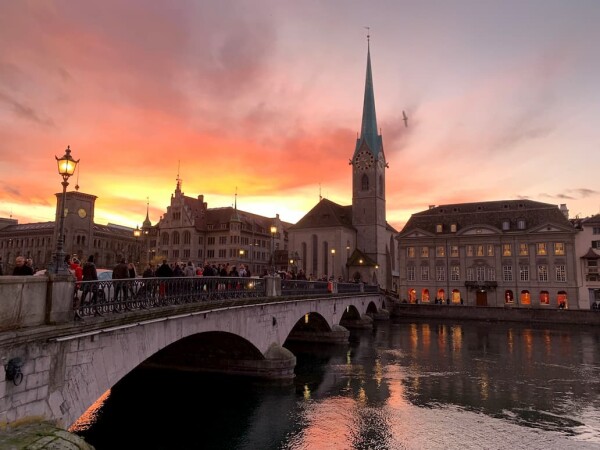 You see, I always thought that sunsets were only memorable when they were at a beach while on vacation. Or maybe in the mountains while I was out hiking. However, I have since changed my mind.
Zurich is a city like many others in Europe, but it has so many stunning historical buildings and views. And since I have been writing on my blog I have been "forced" to explore them in far more depth than the average visitor. Then I started photography.
Spending hours before, during and after sunset in various locations around Zurich has given me a new appreciation for just how beautiful the city is. From sunsets on the top of the local mountains to Lake Zurich itself the Alps in the distance, there are a myriad of amazing spots to enjoy a sunset on a warm summer evening in Switzerland.
The most memorable for me was late last year while trying to capture the sunset along the Limmat River in Zurich. I was patiently waiting for the sun to set standing along the river and enjoying the scene with the people passing by when I was touched on the shoulder by an older lady. She must have been well into her 90s. We had a fun and spontaneous conversation, while enjoying the sunset together and learning about each other's lives, especially how we both came to live in Switzerland and much more!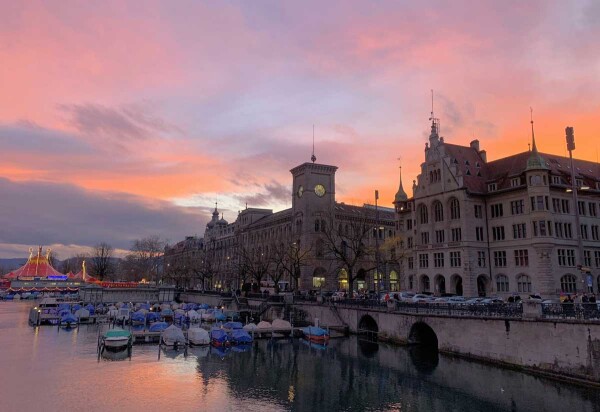 Sure, the sunset was stunning, the building lit up in pink and orange hues. But I will never forget meeting such an open, honest and inspirational lady just randomly along the river banks of the Limmat River in Zurich.
-Anna
Anna was born to travel the world having studied languages all her life. She now calls Switzerland home and spends her time writing about her experiences on Expert World Travel. Also follow her on Twitter.