Less than two hours on modern highways from the hustle and bustle of Mexico City visitors (and locals) can drive to a Pueblo Magico Valle de Bravo located in the neighboring state of Mexico. A fellow magic town like Malinalco, this magic town is known for its colonial architecture and cobblestone streets, its Lake Avándaro, its proximity to the Monarch butterfly migration, and world championship hang gliding provides for a perfect nature nurtures escape.
Sunset on Lake Avándaro
With some many eco-friendly travel activities offered, the town can be busy during the weekends as many Chilangos (Mexico City residents) come to this adventure travel playground. In the evenings they often visit the cafes, bars, and boutiques. Then as the sun begins to dip, many make their way down to the lakeshore to take dinner and drinks with a view of the lake from the municipal docks. And this is exactly where I recommend visitors searching for the sunset magic in Valle.
Jardin Principal – a Sunset in the Zocalo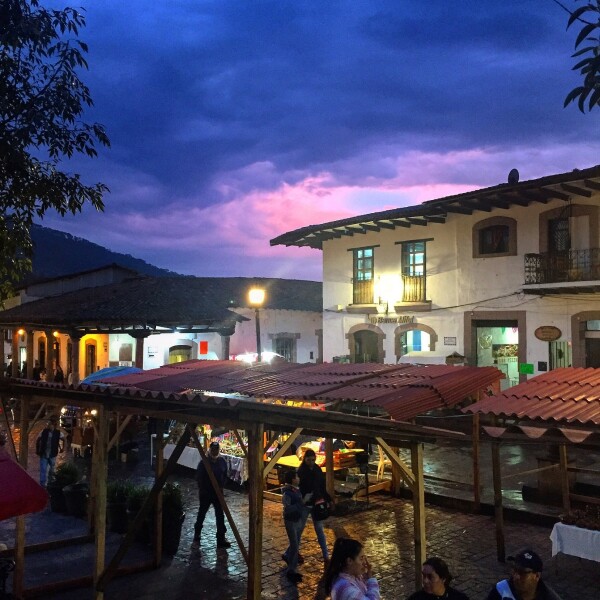 Although the lake is my top recommended spot for a sunset with the water offering a calming aspect to the day's transition, another place to experience a sunset and its magic is in the town center at the Jardin Principal. This main plaza or Zocalo allows one to witness the magic of the colors colors among the often rain cleaned cobblestone streets with the backdrop of the colonial architecture. This may appeal more to travelers who don't often find themselves in the colonial style towns too often, so it was definitely something I wanted to capture.
What's for Dinner?
So take your pick on where to watch the sunset in Valle de Bravo. Either way, you'll experience some of the magic of the pueblo magico. I guess it depends on what's for dinner? Are you up for a more classic dining (white table cloth) experience on the lake with a view and the breeze or perhaps you are just chasing tacos around the main square. Regardless, sunset magic awaits everyone in Valle de Bravo.
Happy Sunset Sunday,
Craig