With a mission to make comfortable, footwear designed to focus on recovery after intense athletic workouts, Telic combines Ivy League intelligence along with Italian shoe cobbler roots to create its global brand. The finished products receive accolades from doctors, athletes and the public (with nearly a 5 star rating on over 2,000 reviews). It's impressive.
Telic Après Ski Recovery Boot
The popular "Energy Flip-Flops," are a perfect fit for the (my) Florida Keys lifestyle, but cooler climates may require more warmth. Winter may demand a warmer product such as the Après Ski Recovery Boot.
Personally, I normally, review all products on my site. But since I received a women's size and still wanted to allow my audience to learn about product, I asked for assistance and interviewed someone who used the product for me.
What did she like?
Simple – the style. Comfort often coincides with non-attractive look. Yes, it's true. At times we have all said, "I don't care how I look today, it is all about being comfortable." Well, not the case with this boot. Here the design, black and white with a zipper on the side seems to provide a sense of modern style along with its intense comfort.
People said, "nice boots. "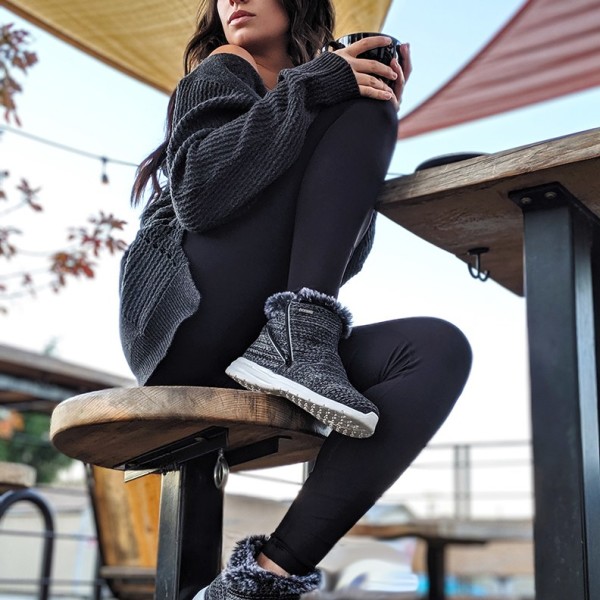 What did she love?
It's the comfort that makes the boot and the Telic brand. The "pillow soft" comfort (as highlighted on the site) after a tough day that makes it go-to footwear for "recovery."  Maybe it's after a day in heels or a tough travel day, perhaps its time to relax after hitting the gym or hitting the slopes skiing, regardless  your feet will thank you once you put the Apres Rescovery Ski Boot  ($139) to rest, relax, and of course – recover.
What did she mention to be aware of?
Warm, humid climates may not be ideal for the boot. It is water resistant and designed to keep moisture out of the boot, therefore it may not breathe best. Well, that all makes sense and also why it's a recovery ski boot. Plus, as mentioned earlier Telic sells flip-flops and sandals too.
So, one may not want to slip them on to take a moonlight walk on the docks by the sea in the Florida Keys  on a "cooler"  (maybe 50s – remember it's all relative) evening.  Stick to the flip-flops when the humidity is high in your climate.   As always, footwear is often designed to be climate specific.
Overall, the reviewer, enjoyed the chance to walk a mile in the Après Recovery Ski Boot and is excited for future winter moments, especially at a ski lodge, where the style, comfort and climate will make this perfect footwear to wear by the fire with a glass of wine.
Stay adventurous, Craig
Special thanks to Maggie Mistal, Career Coach and Staying Adventurous podcast sponsor for sampling the Après Recovery Ski Boot.  Also, special thanks to Deep Creek PR for providing the product.