When staying in a house in Puerto Adventuras in the Riviera Maya, I received directions to Xpu-ha beach.
Apparently, Xpu-ha was "a" or maybe "the" beach used in the famous Corona commercials. Therefore, I needed to not just find my beach (the advertisement slogan) but also certainly find this beach so I took off to highway 307, the Riviera Maya's main coastal highway to explore.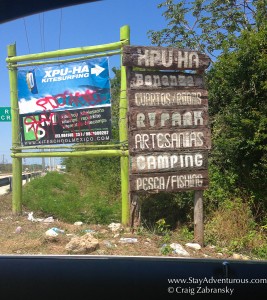 After some distance, I started to realize it wasn't as easy to find as I thought… Suddenly, I wondered was that the turn off? Of course, I questioned it somehow believing it might be well marked, but I needed to remain confident on the outside as I wasn't alone and I was the one who "knows" Mexico.
We eventually arrived at a gate or booth and were charged 50 pesos per person (it may be more today) for a wristband and access. I believe we passed through Mayan land, as all beaches are public in Mexico. I am not sure, but even if it was a gringo tax, it was well worth it. The beach was stunning and complete with a restaurant (200 pesos spend gets you lounge chairs) and the chance to live the dream.
It may or may not be the beach from the iconic Corona commercials, but it certainly was one of those beaches you remember for its beauty. Yes, I can see why people say they found their beach after a visit to Xpu-ha in the Riviera Maya.
Travel Tip
Plan to go for a walk, down the beach some hotel "ruins" remain (or did remain) from an earlier development. With all the Mayan Ruins in the area seeing this empty resort gives you perspective on what people might discover about our civilization is a few hundred years. Explore the ruins of the resort.
Stay adventurous, Craig
This post is part of the winter 2016 Beach Thursday series. Stay Warm this winter and visit all the beaches in the series through the years > Beach Thursday Series