It started to rain heavier as I made my way to the beached boat. It wasn't promising. The chances for a Adirondack Sunset from Long Lake (14 miles in length) didn't seem very possible. But if there is one thing I learned from the few days on my recent adventures across the Adirondacks was that the weather changes quickly.
After a failed first voyage on Long Lake with rain, a few of us stayed on the rented pontoon a little longer. We finished our deli sandwich, opened another beer and chatted under the canvas cover avoiding most of the remaining slight drizzle. It didn't matter much since we were already wet, but then suddenly it happened. The rain, it stopped. Should we try again?
Yes.
The Long Lake Boat Ride
We pushed off and left shore again and had a more magical cruise on Long Lake.
We explored The Adirondack waterway in the day's golden hour appreciating its majestic mountain backdrop as golden sun beams glistened on the water. The breeze dried our clothes (some) as the sun warmed our souls. There is always something special about a sunset on the water and one shared in good company.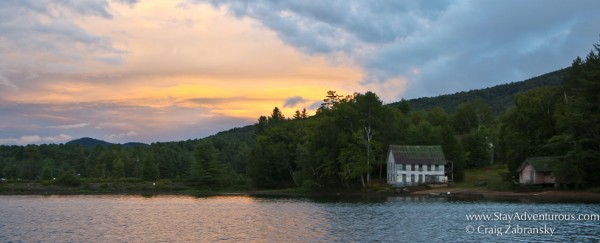 Sure good things come to those who wait or maybe it is patience and persistence that pays-off. Either way, I definitely consider myself fortunate to enjoyed this moment on Long Lake, New York and I even decided to make the images long. Happy Sunset Sunday.
Stay Adventurous, Craig
This post is from my blogger trip through the Adirondacks as part of a sponsored trip through the region. All opinions as always are my own.