Mexcaltitán may no longer be an official Pueblo Magico, but there is plenty of magic left on this sleepy fishing island.  The magic exists in the Mexican must order Zarandeado or spelled Sarandeado (naturally I prefer the "Z" spelling).  This fish dish is available along the coast of Nayarit and also on menus in southern Sinaloa, but apparently the magic stems from this island. Deep inside the waterways of Nayarit or the in the Venice of Mexico one can taste Zarandeado at its best. The flavor is reason enough to visit Mexcaltitan.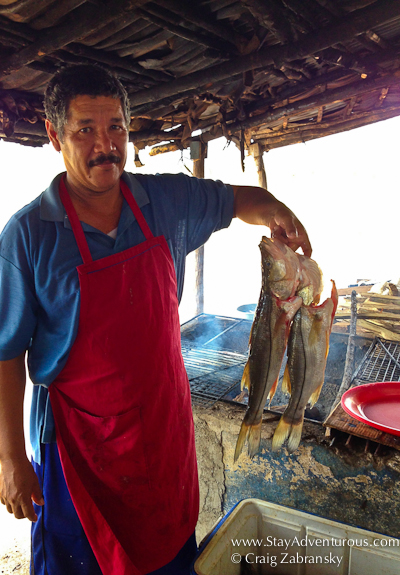 I entered the kitchen and met the cook.  I'll never forget when he told me (en espanol) I'd never taste fish like this again. And he may be right, it was a magical moment. Specially fileted and then grilled over the special mestique wood in a "cage-like" device designed for easy flipping the fish was delicious.  Zarandeado is certainly a must order in Nayarit and specifically a must eat here in Mexcaltitan (if not Mexico).
Best Mexico  Travel Tips for Nayarit.
Definitely a road trip up the Riviera Nayarit is a must. The destination offers price points for all type of travelers. Surfers and Yoga retreats dominate Sayulita, a spot I first learned to SUP and places like Punta Mita offer complete luxury and amazing sunsets (making my 2014 Sunset Sunday Calendar) including the St Regis Resort where one celebrates sunset with a sabrage.
The Riviera Nayarit offers expansive views and although even with new construction, you'll still find gems like San Blas and for some it's San Blas perfection.
Mexico Location: Where is Nayarit?
Most travelers enter the west coast state of Nayarit via the Puerto Vallarta airport since it borders Jalisco (to the south), but I also road tripped to San Blas via Mazatlan (Sinaloa to its north). Inland, visitors can also find mountains, lakes, and its capital city Tepic.
For more details on Nayarit, but sure to catch the release of the additional episodes of my Mexican Bitacora (Journal) videos through Nayarit (and Puerto Vallarta) in April. Did you catch episdoe 1 – Nuevo Vallarta, Nayarit yet?
Stay adventurous, Craig
This post is part of the Mexican March Madness 2015, a look at the 31 United States of Mexico in the 31 days of March. Don't miss a state, sign up for email updates > here.