After driving the ten-kilometer coastal road from Celestún, Yucatán further out of town (into the wild), I arrived to the eco-friendly Hotel Xixim. It took nearly 30 minutes to travel those last few kilometers from town, but the Hotel offering a "Unique Mayan Experience" offered me a chance to relive a childhood memory and experience a unique beach, a virgin Yucatan beach.
Apparently only 5% of the world's beaches remain virgin today (source: Jamie, the manager of Hotel Xixim) and I suspect as beaches become discovered with the growth in tourism and travel, that percentage will shrink over time. But virgin or not, I can tell you, I cherished the chance to walk this Gulf of Mexico beach among all the thousands of seashells in the sand.  I can't recall a beach with so many since I was a child on Fire Island.
the Seashells of the Yucatan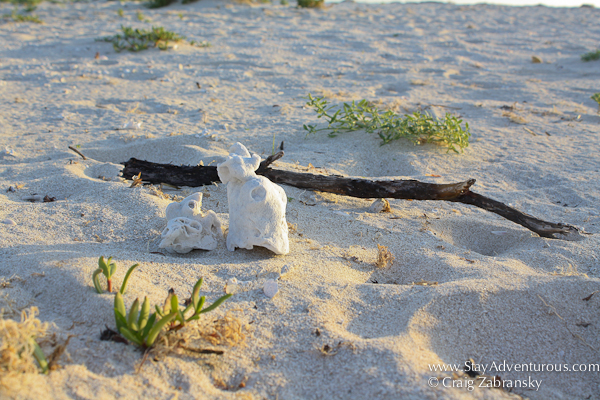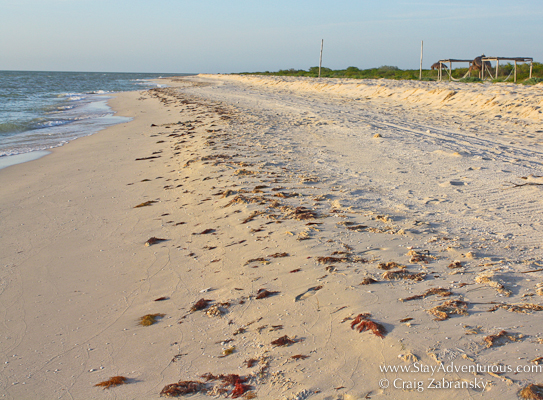 Actually, "Xixim, " a Mayan word, translates to "the place  of where the seashells are," and they were here all over the pristine beach.  I wanted to pick up a few and take them home as I did as a child, but, I learned it takes many, many years for a shell to appear on a beach, so I left them behind for others to experience.
Mexico Travel Tip:
Why head to the Gulf of Mexico beaches instead of the Caribbean beaches of the Riviera Maya (Cancun, Playa del Carmenr and/or Tulum) when visiting the Yucatan Peninsula in Mexico? Great question. Four thoughts:
1) To experience a virgin beach and potentially relive childhood memories with seashells, 2) If already in Merida, it is only an hour away, not over four, 3) See pink flamingos and 4) a Yucatan sunset over the gulf of Mexico.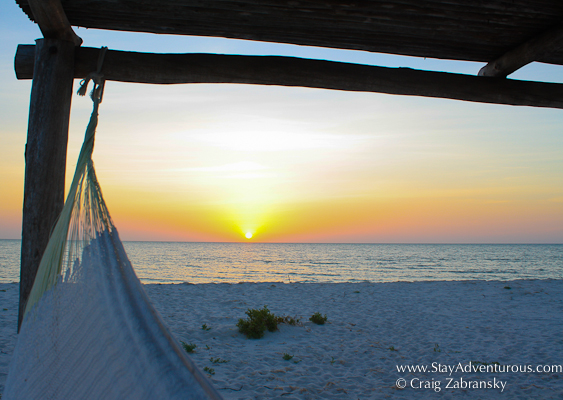 Stay adventurous, Craig
the post is part of the 2015 Winter Series – Beach Thursday; also, special thanks to Premium Yucatán and Xixim Hotel for inviting my to experience their unique hotel. Also, as always my thoughts and experiences are my own.