During this past summer before boarding the ms Westerdam for  a cruise to Alaska on Holland America, I spent time in Seattle. It was my first visit to America's Emerald City in years and the first since the Seahawk's Super Bowl Championship.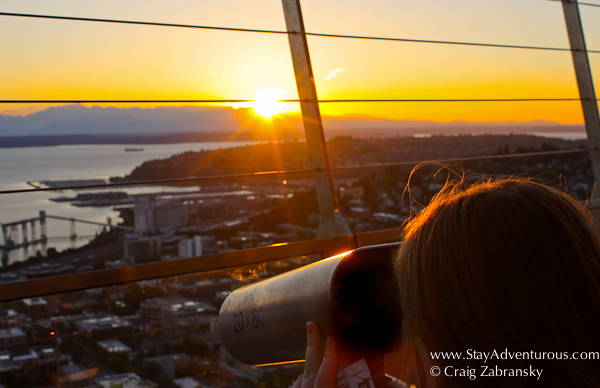 Of course, I purchased a few Super Bowl Champion souvenirs as a life long Seattle Seahawks, a must, and I also visited a few of the prime Seattle tourist attractions including capturing  Seattle Space Needle to capture a sunset.
Today, the Seahawks are once again playing for the right to represent the NFC in the Super Bowl. To show support, I am once again showcasing a Sunset from Seattle, just like the sunset from Pike Market posted on last years Super Bowl Victory.
Happy Sunset Sunday
Stay Adventurous Travel Tip
Always head up to the top of landmarks, buildings, etc… close to sunset. Whether in New York and the Empire State Building, Rio de Janeiro's Pao de Acucar (Sugarloaf Mountain), or Seattle's famous Space Needle being up at that time allows you, visitors, to capture the views in both the golden hour and after darkness descends. This gives you the opportunity for the best views in great light (best photographs too) and a chance to see a city at night.  It's a win, win.
Stay Adventurous, Craig