The time of year is here once again, the 2015 Sunset Sunday Calendar is now available.This year, the sunset calendar includes images from America, Europe, Africa, Asia and Latin America coupled with simple, yet impactful instructions in an effort to enhance all sunset experiences.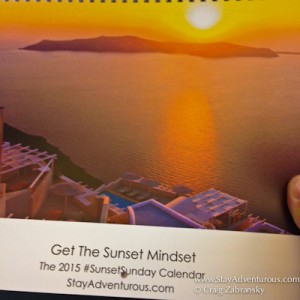 The calendar is designed to give the viewers more than just a sunset, but a different way of thinking about the sunset each month. A mindset for the every day and everywhere. A mindset for every sunset.
Santorini Sunset
Earlier this year, I visited Santorini. The Greek island, often ranked as the top island destination is a postcard image at every turn including the sunset from Imerovigli. Santorini was selected as the cover not just because it is beautiful place to watch a sunset, a place where the sunset is celebrated nightly, or because it was a place I always wanted to visit. No. Santorini was selected because every evening I put the sunset on my schedule, in my "calendar." It is exactly what the Sunset Sunday Series wants you to do every Sunday (at least).
And as you turn the pages (preview the calendar here) you will notice the calendar is not about destinations, but instead more… it is about a mindset, so Get the Sunset Mindset.
Order the 2015 Sunset Sunday Calendar
From now till Thanksgiving weekend, the 2015 Sunset Sunday Calendar – Get the Sunset Mindset will be discounted 10%. This great gift idea will definitely bring a smile and also some sunshine to everyone this year.
To order your copy (or copies for gift giving) click here.
Win the 2015 Sunset Calendar
Just like last year, I plan to give away a calendar through the site. To win a copy of the 2015 Sunset Sunday Calendar  all you need to do is the following two things.
1)   Comment below and answer the following questions. a) Where did you watch your favorite sunset and 2) what made the moment so special?
2)   Subscribe to the StayAdventurous newsletter (if you haven't already – see the right column)
And for a bonus entry to the random drawing, share this post (use the social media share button on the left) and include the hashtag #SunsetSundayCalendar.
A winner will be selected randomly from all eligible entrees on Sunday November 30th at sunset (NYC time).
Good Luck to all and Happy Sunset Sunday. Stay adventurous, Craig