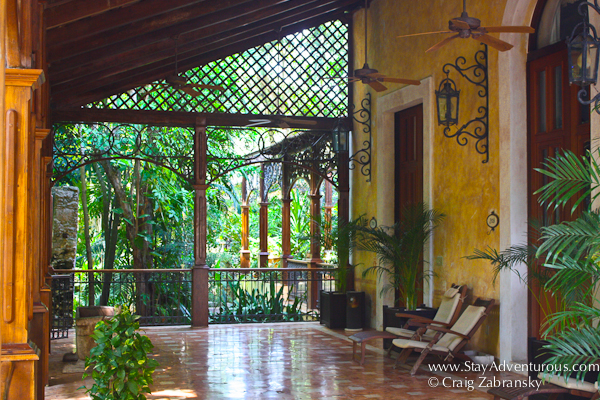 Ever since I started traveling to Mexico for work in 2006, I dreamed about staying in an authentic Hacienda.  I wanted to experience the history, the grandeur, and be pampered in its luxury.  I checked into Hacienda Xcanatun earlier this year and realized my dream and then some. What made it so special?
Attention To Detail
Located in Merida, Yucatan, Hacienda Xcanatun opened its doors as a boutique hotel after an extensive five-year restoration effort. The property originally purchased in ruin, had been deemed irreparable by the INAH (Instituto Nacional de Antropología e Historia).  However, with patience, time and great attention to detail, it was restored to its original grandeur and is now proudly registered as an INAH property. The 18th century Sisal Production Hacienda is a true historic treasure every visitor will find inspiring.
The laborious effort was completed in 2000, respecting the original neoclassic design leaving no detail to chance. From sourcing the proper Marseille tiles to the multiple weeks spent hand-carving a tub from one solid stone, everything has been designed to impress and does exactly that.
Rooms Fit For A King (Or Queen)

The rooms are fit for royalty.  There is no bad selection amongst the eighteen on-site accommodations.  My stay was in a Suite de Lujo.
Marble floors, original windows, ornate furniture and a true master bed helped to create a luxurious hacienda experience.  Plus, with a relatively private outside hot tub, I often spent the evening hours with a soak enjoying the cooler air coupled with the sounds of nature from the acres of gardens.
Wifi is relatively available, but don't expect a TV in your room. The only TV on the property is in the chapel. This further creates the proper ambiance and gives you a chance to fully acclimate to a Hacienda holiday. But don't panic, one evening I watched a particular sporting event in the chapel. The attentive staff even delivered my dinner there.
The Hacienda Grounds
Set on several acres, the grounds are a peaceful maze of pathways, ideal for a stroll.  A walk through gardens allows visitors the chance to reconnect with nature plus guests can visit the chapel, walk among a row of Royal Palms, find a Mayan ceremonial structure and also relax poolside.
Taking in the sun on the lounge chairs with an occasional dip in the pool was a great relief from the heat and humidity of the day. Nearby there was also a spa. Although I did not personally take a treatment, another guest did leave extremely impressed, and apparently she found bliss. Next time, I will make sure not to miss out.
Xcanatun's Restaurant
Hacienda Xcanatun has a classy fusion restaurant also available and open to the public. Combining Yucatan ingredients with French cooking techniques (the chef Alex and owner Christine were both trained in French cuisine) has consistently secured the restaurant 4-diamond awards over ten consecutive years.  It is a popular restaurant with both the guests of the hacienda and also for the people of the city of Merida.
The restaurant also boasts an impressive wine cellar; the must try dish for dinner is the duck.
Merida is Close, But When You're Onsite It Feels Far

Only a fifteen-minute drive to downtown Merida and even closer to the impressive Gran Museo del Mundo Maya (a new Mayan museum), visitors have many tempting excursion options. But don't make this your trip to Merida, stay onsite and "live" the Hacienda lifestyle complete with the service, luxury and sense of history you'd expect.  So be careful not to book too many outside activities.
The "Where to Stay" Recommendation
At Hacienda Xcanatun, a one night stay mid-week in October will currently cost $238 USD plus taxes. On my trip I stayed only two nights, but would recommend at least three and more if you plan to leave the Hacienda (I didn't).  I'd also make this a part of a larger trip to the Yucatan as there is much to discover in this intriguing Mexican state.
So, for your next trip to Mexico, make sure you not only soak up the sun, but also experience the richness of Hacienda luxury.
Stay Adventurous, Craig
I was a guest of Hacienda Xcanatun, but in no way does it affect my opinions and story. Also, as part of my experience, I discovered the state of Yucatan is much more than Chichen Itza and will continue showcasing what else I discovered through my travels to Premium Yucatan properties. Also all photographs not marked with @StayAdventurous are courtesy of Hacienda Xcanatun.