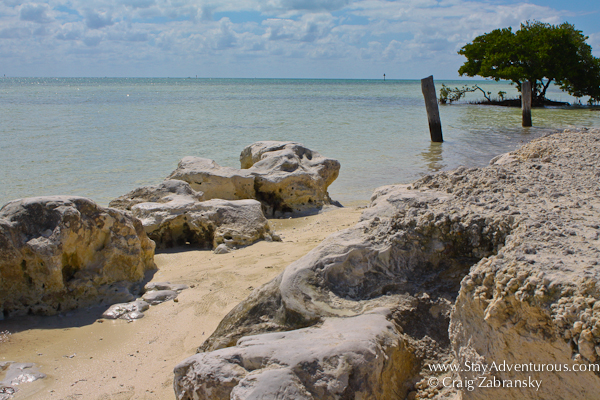 Driving down the famed Overseas Highway (US -1) towards Key West there's a must stop beach, Anne's Beach, located at mile marker (MM) 73. It is definitely worth the stop to stretch the legs or as I recommend to spend an afternoon.
The Florida Keys are not famous for their beaches. No. A few exist in the Upper Florida Keys at resorts such as the beach at the Hilton in Key Largo and at the beach at the Moornings in Islamorada. There is also the National Park Nest Key Beach, but you need to arrive by boat.
Anne's Beach, a local favorite in Lower Matacumbe (MM 73)
Anne's beach is different. Right off the highway, visitors find free access to a public beach.  Although, the beach itself is not large, it remains a charming place to visit filled with a boardwalk through mangroves, shaded wooden picnic tables and pristine views of classic Florida Keys water. It seems to be the perfect place for the locals, especially families and dog owners, not to mention the local wildlife of birds and fish who share the habitat.
Why Go to Anne's Beach
It may not be filled with soft sand or cabanas, but it provides a perfect way to connect to the environment; a perfect place to enjoy nature, a perfect place to experience the Florida Keys.  Pack a picnic basket, bring a beach chair and enjoy being knee deep in the water and find yourself worrying if the tide will reach your chair.
How to Get to Anne's Beach?
You drive. It is steps from US-1 at MM 73 with two parking lots approximately 1/4 mile apart.  So don't worry if you miss the first one, but know that the only bathroom is on the northern side (the first entrance when driving to Key West).
Stay adventurous, Craig