With early morning snow flurries in Beijing I wondered how the weather might affect our drive to Mutianyu. Thankfully, the flurries faded and we enjoyed a smooth ride to the Great Wall of China. The dusting only provided an accent to the scenic labyrinth of stones structure before our eyes. The snow created a winter wonderland.
We selected the lesser known section for a less crowded experience, but just like the winter tour of the summer palace, it was the weather that kept many visitors away too. It was cold. Very cold. And we basically had the entire Great Wall, the section at Mutianyu to ourselves.
Here is a look at the early morning views on the wall.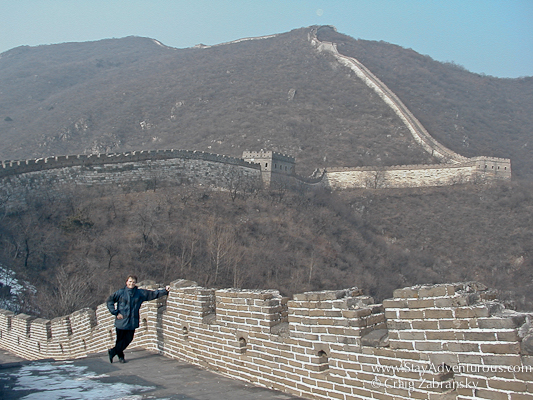 Also, part of the winter wonderland was in the transportation used to access the wall. We took a chairlift up (ski slope?) and rode the alpine slide back down. As odd as the chairlift was, it was even stranger to experience an "adventure" activity at one of the wonders of the world. And the Alpine probably doesn't make most tours of China, but I'll admit I did enjoy myself on the way down.
The Great Wall of China, just like Chichen Iza, deserves its status as a wonder of the world. Definitely put a visit on your itinerary. I am glad I did.
stay adventurous, Craig
This post was sponsored, but the experience, words, and photographs are all my own. And when I return to China, I plan to to visit more of the country including spending time on the River Yangtze.