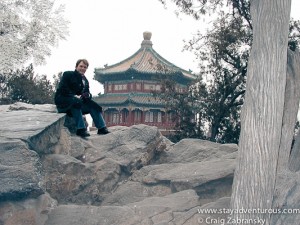 In Beijing during the heat of summer, the Chinese Emperors often left the Forbidden City and traveled to the Summer Palace (or Gardens of Nurtured Harmony – or 颐和园 in simplified Chinese) to cool off.  On my winter travel to China, I needed no such cooling off. The -13 degrees didn't need to be converted to any scale, summer was long over and it was cold. Freezing.
But with my Aussie friend, traveling to the Summer Palace seemed like a perfect plan. On the day excursion from Beijing, I took in some lovely winter scenery in the frigid air.
When you visit Beijing, I recommend an escape to see the Summer Palace, and I recommend it in Summer or Winter.
stay adventurous, Craig
This post is part of the Taste of Asia series. It is the final of the seven posts. Hope you enjoyed the special series.