I met John of Travel Rinse Repeat after I watched a sunset at TBEX. We talked about everything from the the business of blogging to majestic sunsets. And after his trip through Greece he mentioned just how many amazing sunset he watched, so we talked about sharing one here in the series. He agreed. So enjoy the Sunset from the isle of Naxos.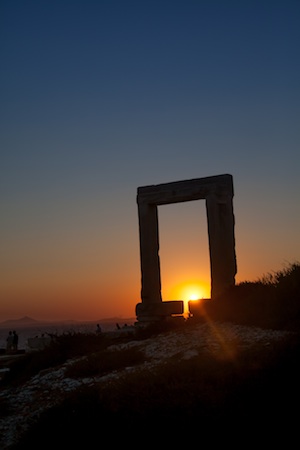 What is Greece without a sunset? Watching the sun fall below the horizon over the Aegean is as Greek as souvlaki. It is an event to be celebrated, an event to enjoy with family and friends. Though it's not as famous as the sunset in Santorini, on the island of Naxos the crowds still gather to watch the sunset at the iconic Temple of Apollo
By day, the temple is like many others dotting the island; a hilltop with piles of ancient rubble and plenty of curious camera-toting visitors eager to frame their postcard-vision of Greece in their viewfinders to make friends back home jealous.
But as the sun approaches the horizon, the site takes on an almost magical air. From one side, the soft and nuanced colors set the famous temple gate aglow.
Yet the best view is from the opposite side, where the gate acts as a frame-in-silhouette for the fiery sun. It's an absolutely captivating moment when the sun passes through the massive window that captures so much of what Greece is at its best – a combination of intense natural and man-made beauty.
Happy Sunset Sunday. As a perpetual business traveler, John is always looking for ways to make the most of every travel opportunity, no matter the occasion.