Amsterdam is a destination that conjures up thoughts of a party, yet the city offers much more to the traveler. But regardless of your reason to visit the destination two different drinks need to make it on your bar menu during your stay.
Yes, two local drinks are a must. One is so common I am not sure if you could escape it if you tried.  And the other might be a bit more subtle,  so you'll definitely need to ask for it.
a Pint of Heineken
Whether in a quiet part of town on the canal or perhaps a more popular square sitting down and enjoying an afternoon pint seems to be a right of passage in Amsterdam. Walking the streets or touring the city in any of the many ways to see Amsterdam you will notice the "Red Star." You'll see it on glasses, on signs, on umbrellas – everywhere. Yes, you'll see Heineken everywhere. And although a working brewery is no longer located in the heart of the city, a tour still exists for those true fans. Today visitors enjoy the Heineken Experience and yes it comes with samples.
So yes, the choice is simple – Heineken. And don't search for the "lite" versions either, they don't exist here. In fact even Amstel is just Amstel. Enjoy the full flavor – heck you are on vacation, no?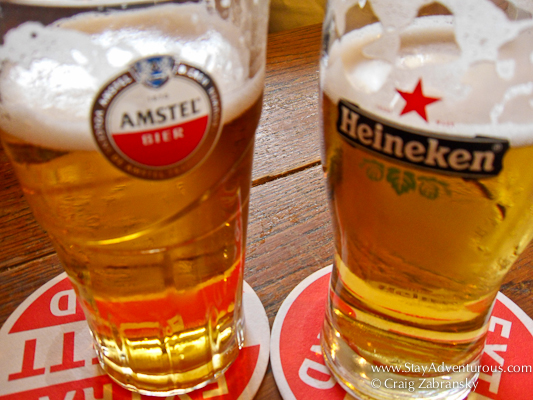 a Glass of Jenever – Dutch Gin
After watching a Globe Trekker episode on Holland, I needed to also try Jenever. I've seen it spelled many ways, including with a "G" too and it is all known as Dutch Gin and it was a unique find in Amsterdam. The liquor has a deep history in early cocktails. It seems the original gin was Jenever, but today it is mostly found in a unique glass and straight.
One evening when I stumbled upon a cozy restaurant along the canal I asked about it and eventually sampled a few. I just couldn't help watching them make such a perfect pour. It always almost seemed to be over the top, but they never spilled a drop, however I often did when I picked it.
Talking with my friends at Team Cocktail at a rum festival, I noticed their T-Shirt, "Travel Globally, Drink Locally." I loved it. It resonated with me not just because of the chance to drink something new, but it is the chance to learn about culture, history and socialize with locals too.
stay adventurous, Craig
this post is part of the European Summer Series