A tour of any city must never be rushed. To truly appreciate the urban landscape, one must meander its streets (or canals) and spend time getting a bite to eat. Yes, one must taste a city's offerings. And Amsterdam offers many delightful tastes to enjoy. Here are three of my favorites.
the Amsterdam Breakfast Sandwich
I know breakfast is the most important meal, blah, blah, blah… but often a cup of coffee and danish is what I consider perfect in any city, especially Europe. However, in Amsterdam I did find something I normally don't find outside New York. I found a great egg sandwich. In fact, this open-faced egg specialty also became a staple of my day when I cruised he Dutch line Holland America earlier this year through the Panama Canal.

the Amsterdam Crepe
Dessert in the afternoon is perfectly acceptable in Amsterdam. Just a few meters from the Heineken Brewery, I stumbled upon a gem of a place with tables outside. I ordered a simple crepe (open-faced again) with chocolate and washed it down with a Heineken, one of the two local drinks to enjoy in Amsterdam.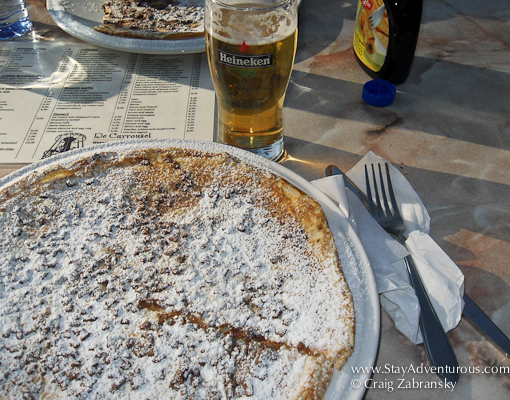 the Cone of Amsterdam Frites
It is hardly just for late night, although my first experience in Amsterdam with frites came after a long session at the Hill Street Blues cafe. And dare I say it changed my life, well it did change my eating habits.
I realized how delicious mayonnaise truly is on fries and I gave up ketchup since that day (12 years ago). And I also discovered on subsequent trips, a cone of frites, or fries is delicious at any time of the day or night. I sampled them at a few times of the day just to make sure.
Well these are just a few tastes from the streets of Amsterdam. I am know there are more, including many available at outside markets such as the Noordermrkt Farmers Market or deep inside the many restaurants serving full course dinners including the famed Rijsttafel (Indonesian Rice Table). But these are ones you can find as you meander the streets and offer you a chance to truly sample the city at its best. Bon Appetite!
Stay adventurous, Craig
this is part of the European Summer Series