When I think of European destinations, I can easily say Amsterdam has become one of my favorite cities. I've visited the city multiple times,  each time with different companions and each time I left saying, "I love Amsterdam."
Whether its finding a cafe filled with memories such as Hill Street Blues Cafe or making new adventures and enjoying meals made from the organic Noordermrkt Farmers Market  I've always really enjoyed my time in the city.
And if you are heading off to visit for the first time or even returning to the city one of the benefits are the choices and ease on how you can tour  the city itself.
Visitors can hop on board a boat for a canal cruise, hire a bike and pedal its streets, take the convenient trams or even walk the city following the steps of a guided audio tour. Each provide for an enjoyable, educational and enlightening view of the city itself.
Take an Amsterdam Canal Cruise
Multiple companies offer canal cruises. Tourists can purchase an all day hop-on hop-off from Canal Bus or just a single hour to seventy-five minutes tour. Passengers ride a luxury barge down the three famous canals passing preserved landmarks from Holland's Golden Age to monuments from its more recent history. And the tours come in multiple languages through taped recordings in Dutch, German, English and French.
The canal tour provides a great way to sit, relax, and see the city from the waterways. Additionally, many tourists chose to enjoy a twilight dinner cruise available from Holland International. The timely viewing of the illuminated canals makes for a most romantic experience.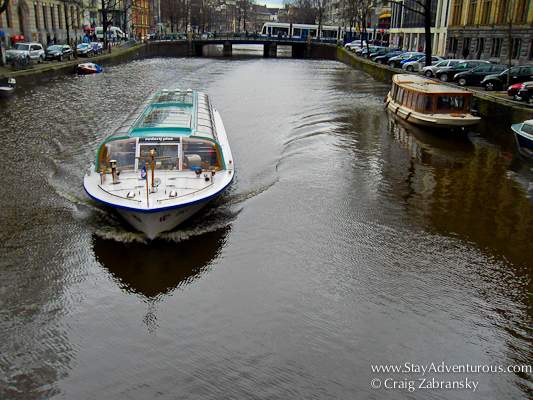 Travel Tip: Take a Canal tour first. It is a great way to see the entire city quickly and be able to learn where you might want to spend your time.
Hire a Bicycle
On the city streets of Amsterdam the bicycle remains the preferred method of transportation. Parking garages fill with bicycles not cars and most tourists seem to leave the city describing a close encounter with a local on a bike. I know, i have at least one encounter from each visit.
Numerous shops offer access to hire or rent bikes for a few hours or for a full day. Some shops even provide group bike tours if interested often for no an additional cost.
Travel Tip: Take the insurance. Although crime is very low in Amsterdam bike theft (borrowing) remains a problem.
Take the Tram
The tram will take you everywhere you want to go and it is much faster than walking too. The convenient above ground electric cars move through the city and stop near all the attractions any visitor would want to experience. Plus, with the above ground vantage point, visitors can really view the city.  And if one spot catches your eye, just hop off and visit.
Travel Tip: The City of Amsterdam offers an I AMsterdam card which gives you access to the Trams of the city. It is definitely something to consider if you want to maximize your visit with activities.
Walk The City Streets

To really soak up the city at a slow leisurely pace, many visitors chose to walk Amsterdam. With numerous walk-able districts and the canal side cafes, restaurants, and bars never more than a few steps away, it's a great option.
Also, I found Holland Audio Tours, a downloadable tour for an iPod or MP3 players, that can take visitors across the entire city. Points of interest include the Van Gogh Museum, Dam Square, Floating Flower Market and thirty others. Tourists can walk the whole city and I did. Plus, when walking you can always stop on a canal bridge to watch an Amsterdam sunset.
Travel Tip: If you decide to walk the city definitely consider doing it over a few days. You can probably walk all of Amsterdam in in a single day, but if you want to experience the city, it is best to break it up. I did it over three leisurely paced days.
stay adventurous, Craig
this post is part of the European Summer Series. I'd also like to thank Holland Audio Tours for providing me with a copy of their guide to the city, and Holland Tourism for access to a IAMsterdam press pack.