It's not often that I catch the sunset in Catawissa. In fact, this was my first.
I spend plenty of time each summer in Pennsylvania. Yes, it's great to escape the heat of the city and equally as great to spend time with family. And each time I visit, I have the best intentions to capture a stunning sunset. They do exist in Pennsylvania.
However, I tend to only find the opportunity when I am near water. In the series I already shared my sunset at Cooper's Restaurant in Pittston on the Susquehanna River and also the sunset on the lakefront in Beech Mountain; both golden sunsets with majestic fresh water settings.
The Stop in Catawissa
Recently, when driving my way to the interstate on some Pennsylvanian winding road, I could not help but notice the intense colors in the sky. Such brilliant reds and pinks provided a stunning scene. I craved to capture it, but the road continued with no favorable vantage point from which to record a perfect image. I pressed on.
As time continued to pass, I knew I needed to make a stop, post haste, and did when I arrived in Catawissa. I immediately pulled over and exited the car with my camera. I walked a few steps ahead to search for the best angle and composition. It was a challenge, but I took a few images, and seized the beautiful sunset as best I could.
I returned to the car with a huge smile. Again, I witnessed something wonderful, something we all can see every day, if we just look. I smiled because even after two years of running this series, I still love sunset. Happy Sunset Sunday!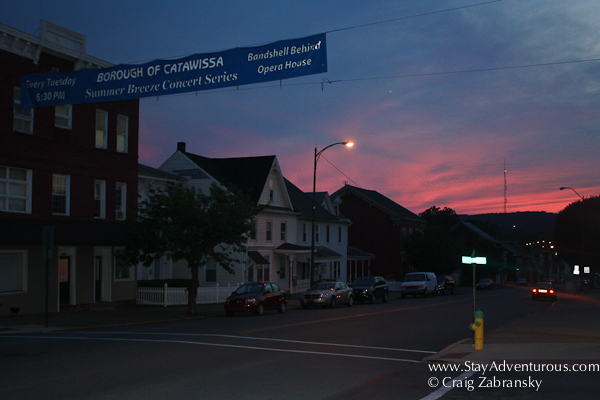 Stay adventurous, Craig