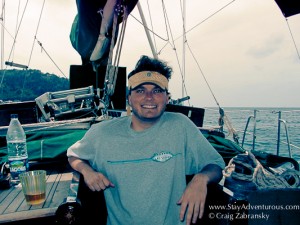 Sailing the Greek Islands was the trip that truly set Stay Adventurous in motion. Below are the words I penned (or typed actually) as my first ever published travel story describing the trip. The site where it was published years ago, realhoboken, is no longer live, so I took the liberty to add the story here. In some ways, I think this is where it belongs.
Summer vacation equals the shore and the beach, right? You take long weekends to enjoy Sunday nights at the beach, or even stretch the midweek 4th of July day-off  into a full week off. And who could blame you? You have limited vacation days and access to a shore house.
I felt the same way until last summer (2004).
I always loved to travel, but I would strategically plan my trips for late spring or early fall this way I wouldn't miss a day surfing and tasting the good life at the shore.
However last year all that changed…I hungered for adventure. Only a 1⁄2 share in a beach house, I decided to accept an international wedding invitation and visit Greece. With my girlfriend an eager participant, we were off on a 17-day trek.
Don't Skip Athens
The first stop was Athens. Even although most people advised me not to spend any time there, (saying that Greece's real beauty is on the islands, and yes I agree,) I still decided to spend a few days. Athens was dirty, congested, and widely under construction for the Olympics. But to me all cities have a charm, and as a student of history, the charm of Athens was more than its food, it was walking amongst ancient history.
We visited the Parthenon, the icon of Athens. Next, and in my opinion even more impressive, was a walk around the remaining, towering columns of the Temple of Zeus. Still today I marvel, as do most, that such massive structures were completed over two thousand years ago.
From there we walked the paths of Plato and stood in the square where Socrates preached philosophy. We even visited the site for first modern Olympic Games held in 1896 and witnessed just how far the games have come in the 100+ years before their return to Athens. (and now London in 2012)

Quenching our historical thirst by the third day in Athens, we were off to an even greater adventure sailing among Greece's Ionian Islands.
The Ionian Islands of Greece
We flew to our rendezvous point, Corfu, a day early to enjoy the island before meeting our charter a short ferry ride away. Corfu, and as I would later discover all of the Ionian Islands, was heavily influenced by its days under Venetian rule. The narrow winding streets lined with quaint homes and shops made walking through town a joy. Even the day's drizzle could not dissipate the lovely aroma produced by the numerous balconies blooming with flowers. By nightfall the rain thankfully subsided and we met our travel companions for dinner – 'thirtysomethings' from LA. Together we tasted the first of many glasses of ouzo and looked forward to the adventure ahead.
The next morning, we took a ferry to Paxi and met our ship's captain, Tristram, and first mate, chef Paolo. They introduced us to The Elentari, our sailboat – a beautiful wooden ship, completely custom built by the Tristram's father for his 'round the world (RTW) adventures. The boat had all we needed for a week long stay, including comfortable accommodations, daily breakfast and lunch and all the wine and beer you could drink, which tended to be quite a lot at times. Dinner was not included, but we discovered that we would dock each night in a new port just after sunset on the Ionian Sea where we would have no trouble finding a friendly local taverna.
That day began a life-changing adventure sailing the Greek Isles. Along our travels, we would sail from island to island – stopping at Anti-Paxi, Lefkada, Ithaki, and Keflonia. The route depended on the weather, the winds, and honestly how hung-over we were from the previous night. We had a few long journeys between islands, sailing fast at speeds of ten knots, bemused with the occasional school of dolphins swimming in our wake. When the winds proved difficult, we took short trips, tacking along the way with Captain teaching those willing how to really sail.
For others, such as myself, I just simply relaxed on the deck, enjoyed the scenery and worked on my tan drink in hand.
Great food, friends and sailing aside, it was the island scenery that really made the trip. Every moment we were met with breath taking views of clear blue waters matched against steep cliffs covered with lush vegetation. We anchored off white sand beaches, swimming or snorkeling in the crystal clear waters, reading or napping in the ship's hammock, playing the Greek game of backgammon, and of course consuming Mythos, the local beer.
On one particular day, I had just returned to the boat from a coastline exploration. Suddenly out of nowhere, a tourist boat descended on the cave I had just spent a 1⁄2 hour exploring. All the tourists jumped into the water and splashed around before a loud horn sounded signaling them to return to the boat. The once tranquil cave where I had pondered my escape from the grips of corporate America became a frenzy of tourist activity.
As the tourist boat left, it powered rather close to the Elentari. I noticed many of the passengers where still taking photographs. However, the pictures were not of the cave nor of the landscape, but of the Elentari. At that moment it was evident that I had chosen the proper way to appreciate this part of the world. Sailing the Greek islands is a once in a lifetime trip.
They say that a trip to Greece changes your life. "They" are right. The change inspired for me was finally taking a sabbatical from the corporate world to experience the real world. Now two-thirds through (when published in 2005) with my adventures, I hope to write timely pieces for you, the reader to inspire your own life-changing adventures.
Till my next piece, siga siga…
Stay adventurous, Craig
My original title to this was, Greece can change your life. And now 8 years later, I am living proof not only can it, but it does. This is also part of my European Summer Series. And the photos may seem vintage, well they are if you consider a ten year old digital camera vintage.