Traveling overseas soon? International travel remains one of the best ways to educate oneself. The ability to explore, to expand and to learn through experiences remains the main reason I continue to "collect" passport stamps. With each trip comes amazing opportunity to become a better me, but like all adventure, risks are involved.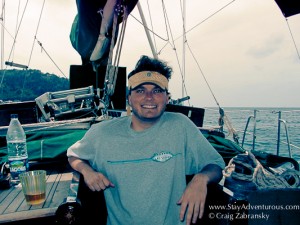 On my Fathom Cruise, I attended the "story of you" activity during the first sea day en route to the Dominican Republic. In the session we each shared the details of a personal life-changing adventure (a positive transformation) that created the story of you. I shared the birth of the "stay adventurous" mantra from my adventure in the Ionian Sea sailing the Greek islands.
Another guest also shared a story set in same Greek Islands involving a scooter accident and hospitalization on the island of Corfu. She highlighted the challenges in the story mentioning being held up in the hospital so far from home for weeks with a broken leg, language barriers, lack of communication to family and friends, and the unknown aspects of her recovery. Not an easy time.
Happily, she recovered well and the experience helped move her life in a new direction. She didn't have travel insurance; we wondered and discussed how in today's world how her story or experience may have changed with a policy.
Travel Medical Insurance When Abroad
So what can travel medical insurance or even travel insurance provide?
Travel medical insurance from MedEx of UnitedHealthcare Global can allow travelers to feel secure when you're traveling abroad. Here are five ways they can assist,
Locate Quality Care
Get sick overseas and need a doctor? Travelers want to ensure the medical care in another country is from reputable professional. Travel medical insurance links you with an emergency response team to help direct you to a doctor whose credentials have been verified.
Want to Control Potential Costs? Doctors and hospitals in other countries will typically expect you to pay up front before starting any treatment. Everything comes out of your pocket while you are still traveling, plus with the doctors outside of your plan's network, you have no control over how much they may charge
Travel medical insurance from UnitedHealthcare Global is designed to help with these costs at the time of service. A deductible may exist, but that's a choice you make ahead of time.
Getting Home in or After a Medical Emergency
Want to get home? Maybe it's a broken arm from a hiking accident or a leg from a scooter, or maybe something much more serious. A policy will evaluate medical needs, select transportation for you and family and enable appropriate care once home.
Non-Medical Issues
Lose something? An emergency response team can assist you — from a lost or stolen passport to emergency funds transfer or a referral if you need legal help. With a policy, travelers have a trusted friend back home to help you navigate in an unfamiliar land.
Safeguarding Your Vacation Investment
Is this your trip of a lifetime, a bucket list adventure? Let's face it, traveling abroad is often something we save up for to make a reality. Besides medical options, lost baggage, trip cancellation or trip interruption are all available to safeguard your next overseas adventure.
Curious about other examples, MedEx of UnitedHealthcare Global allows readers to view real examples in its > case studies
Purchase  Travel Medical Insurance and Coverage
Basic travel medical policy can cost about the same as a nice meal on a holiday. Compared to your trip or vacation investment it's a small price to pay for added confidence, convenience and peace of mind.
No longer a resident of New York (see disclaimer below) I can purchase can purchase travel insurance from MedEx of UnitedHealthcare Global for my next trip and as you know I'll be heading international this October when going to Mexico City with Stay AdvenTours.
Stay adventurous, Craig
This post is featured content introducing MedEx of UnitedHealthcare Global.
Disclaimer: Travel Insurance Plans by United Healthcare are NOT available to residents Washington State or New York.