I wondered about Greek wine. I knew they made wine, I drank it by the carafe many evenings. Yet it never seemed to be too memorable until Santorini and my discovery of the Assyrtiko grape.
The Greek Wine of Santorini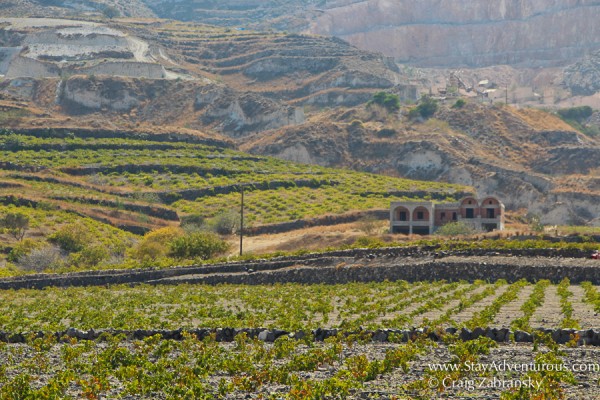 Sure ten years passed since I sampled Greek wine in Greece, but on my recent adventure part of the splendor of Santorini was found in its wine.  From the bottles served on the cliff side restaurants viewing a bucket list sunset, to the 5 Euro type available in the local grocery stores in town, I eventually found myself searching for the Assyrtiko grape with zest. This simple, yet complex grape changed my view of Greek wine from the one I held on my sail through the Ionian Islands to a much more positive one. Apparently Greek wine more was more than a drink to be drunk in volumes and paired with ice to reduce any "strong" or "sweet" tastes. Greek wine, thanks to Santorini for me, had come of age (again).
Visit to Estate Argyros on Santorini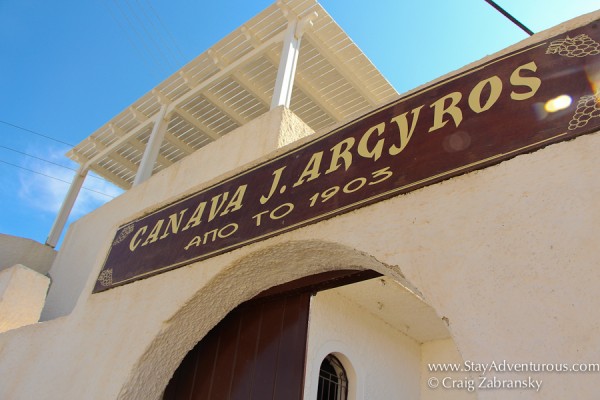 One afternoon I made an appointment for a Santorini wine tasting at Estate Argyros. The award winning winery, (Wine and Spirits Top winery 2014) is where I deepened my knowledge and appreciation for Greek wine. It was inside the estate where and learned how the the indigenous grapes of Santorini, especially Assyrtiko, helped transform the global (and my) perception of Greek wine.
Apparently Greece attempted to make wine that it thought the world markets wanted (chardonnay, etc…) but since those lackluster days it has returned to making quality wines with grape varieties local to Greece. It essentially went back to its roots, and in Santorini those vine roots are deep, very deep. Historically, Greek wine dates back to the beginning of Western civilization not to mention the physically  vine roots can stretch 10-20 meters (30-60 feet) straight down into the soil.
These special indigenous grapes of Santorini, mainly the Assyrtiko, survive a harsh micro-climate, the challenge for water and grow in the mineral rich volcanic soil. This creates unique local flavor that vineyards such as Estate Argyros carefully mix and age properly to create something worth sharing with the world. At the Santorini wine tasting, I tasted multiple different whites wine (mostly Assyrtiko), tried a newly rediscovered red grape too (best to say its still an opportunity) and continued learn the history thanks to my host, Yiota.
Then we entered the sun dried process and the making of the branded "vinsanto" wines. A process that dates back to the beginning of wine production on Santorini and a product that became extremely popular during the Venetian Empire (hence its familiarity with Italy). At Estate Argyros, Vinsanto was essentially kept under lock and key since its aged stock of 12 and 20 years scored 95 and 96 points respectively. Pretty impressive. 
Although they export the wine, a certain chocolate filled with Vinsanto was specially created by special Austrian chocolatiers never leaves the island. You have to visit Santorini to sample this delicacy, and I recommend picking up a few bars when you do. What can be more romantic then wine, chocolate and the views of Santorini at sunset?
Travel Tips for Santorini Vineyards
Call a taxi. Bus transportation is available close to many of the vineyards, but in the daytime taxis are more readily available and the vineyard can call one for you. This is even a better idea if you plan to purchase a few bottles (I /we left with 6 bottles).
Make an appointment. All walk-ins were asked to wait until my near hour long sampling was over.  I remain impressed with how classy and attentive Estate Argyros was on my visit. Again thank you.
Buy aged Vinsanto. An aged bottle Vinsanto makes a great souvenir not just for relatives or friends, but for you too. It is a special moment wine, and just like Yoita (my host) from Estate Argyros mentions in the staying adventurous podcast you open it with family and friends on special occasions. Although any day is special to relive the splendor of Santorini.
Order Chilled Bottle. Don't be afraid, to ask for a chilled bottle especially if you plan to head to the local black sand beaches such as Kamari close by or even if you decide to head back to your villa afterwards. I did. Good call.
Staying learning culture through cuisine, Craig
This post is part of the summer of Wine Wednesday posts, a new special feature in the Culture through Cuisine