I'd never consider a trip to Greece solely a beach holiday, but I certainly would plan time on the beach. And when you visit the island of Crete you can certainly find your beach.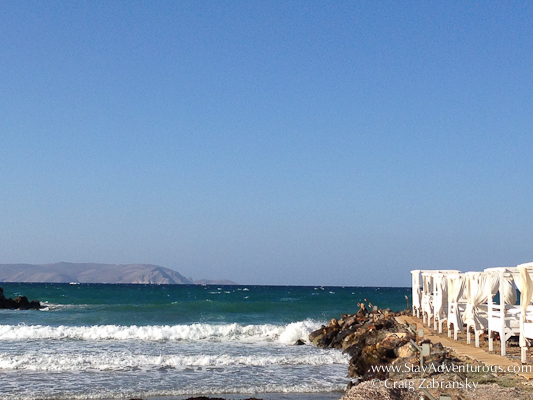 For me, I spent my beach time mostly at the Knossos Beach Bungalows and Suites. Walking distance to a sleepy beach town with cafés, bars and a just a short bus ride to the capital city, Heraklion, it can be a great location to first explore the island of Crete.
Knossos Beach Bungalows and Suites
On the beach, visitors can really enjoy and utilize the plentiful beach beds available for use.  Depending on your room choice, suite, bungalow, etc… a beach bed might already be reserved for you. Providing both comfort and shade from the constant sun (it only rained one day in 24 when I visited Greece) each also had a service button to call for lunch or drinks. But I'd advise not to go hungry or thirsty, the service speed is as you'd expect on a Greek island … Siga, Siga (slowly, slowly)
Greek Travel Tip
Tip 1:
If you don't book the all-inclusive for meals and drinks (Knossos Beach Bungalows and Suites offered a half plan which did not include lunch or alcohol) definitely walk to town and pick up "snacks" for the beach. You can often very easily get your "Fix" with beers for 1€ and enormous water bottles for even less.
Tip 2: Beaches are plentiful in Crete, many more beautiful than the next. You will also find many Blue Flag Beaches on Crete. Visiting one or two is definitely something to add to your travel plans.
Stay adventurous, Craig
This post is part of the 2015 winter series edition of – Beach Thursday. Stay Warm this winter every Thursday with a beach post.