Simple directions state, "Take the coastal road south from downtown Puerto Vallarta until it ends and then board a water taxi." To come Las Majahuitas Resort you can't arrive by car, all guests arrive by boat. The jungle and Sierra Madre Mountains make it only accessible by passage along the Pacific waters. The journey adds to the beachfront resort's charm.
Las Majahuitas only offers eight rooms, casitas, and each is uniquely designed. The owners clearly considered privacy, comfort and luxury when creating the resort, but the true joy for me was the open air and eco-friendly aspect. I didn't just feel as if I was at a resort, but rather part of the mountainous jungle environment.
One evening after lunch and some lounge time on the beach I returned to my room to prepare for dinner and do some journal writing. Inspired in the setting, hours passed and then the sky started to change colors. Mother nature began to put on her daily show, the sunset.
At first I lit the candle to provide more light for my journal, but as the colors deepened, I decided to sit back, put the pen down and watch the show. Clouds and mountains blocked my view of the sun directly, but they did not block the beauty of the moment. A pinkish hue covered the sky and illuminated the clouds as the daylight hours started to come to a close.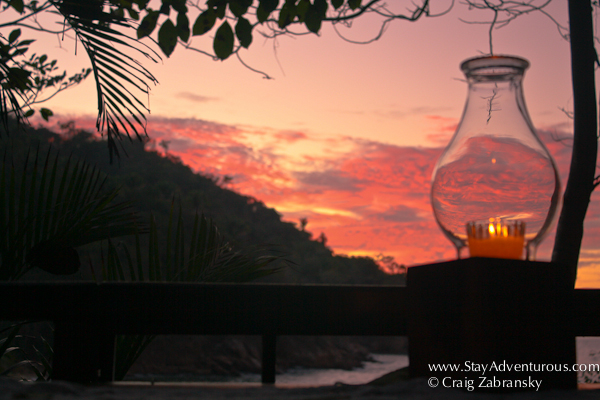 At that moment, I reached for my camera and took this image. Mother Nature did not disappoint. She never does. Happy Sunset Sunday.
Stay adventurous, Craig
A special thanks to Las Majahuitas for hosting my evening. Also, the resort will be highlighted in the Where to Stay Series soon