After entering Florida and taking the highway I-95 south past Jacksonville, you can make a left and head for the Atlantic coast and some of Florida's famous beaches. Before St Augustine travelers can discover Ponte Vedra, Florida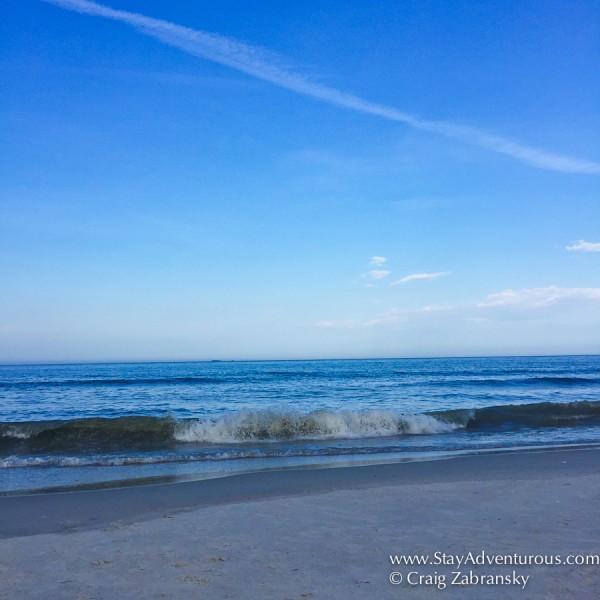 Definitely worth a stop and also, the beach offers facilities to change and clean up, perfect for those long road trips when you need a beach break.
The long path to the beach through sand dunes, always a plus, set the stage for seeing a classic Florida beach.  I also discovered a beach for all ages from young kids to full families, solo adults to a Del Webb flag and a social outing for the retired. Everyone was enjoying the same beach in Ponte Vedra, Florida
The homes on the beach were definitely impressive in both size and stature, not to mention looks like the sun was preparing to set behind one. Pretty sweet.

Travel Tip:
This was all new territory for me and it became the perfect rest stop on my long drive down to the Florida Keys. Why not take a detour and make an adventure of it? Although, there are no rest stops on the road of life... there are chances to take a break on a long drive, so enjoy each and every one. Plus, with the facilities (showers and bathroom / changing rooms) available at Ponte Vedra, the Florida beach is a perfect two hour break to get some Florida Sunshine and some all important "vitamin sea."
Stay Adventurous, Craig
Welcome back to #BeachThursday in 2016, plenty of beach posts all winter to keep you warm. see the full the list on the special Series page titled Beach Thursday. Also enjoy all the beaches we've traveled to in the past, they will be sure to warm you up.