There's no getting away from the fact that beer, wine and liquor remain some of the most common components of many food pairings for travelers. A good number of restaurants pair food menu items with alcoholic beverages because it benefits both parties. For example, for the eateries, it helps the premises seem more fun, increasing sales, whereas, for the customer, it improves the menu experience. Having said that, below are some of the top six greatest liquor and food pairing ideas of all time that are simply worth your try:
1. Roast Meat with Beer
There is a reason why beer remains the most popular alcoholic beverage. Similarly, there's a reason why the drink remains one of the most preferred ways to pair roast meat. Honestly speaking, the meat that has been prepared through roasting can be a true delight if paired with beer. That's because the drink enhances the pleasant savouriness delivered by it like no other. Those who have tried roasted meat with beer know what I'm saying.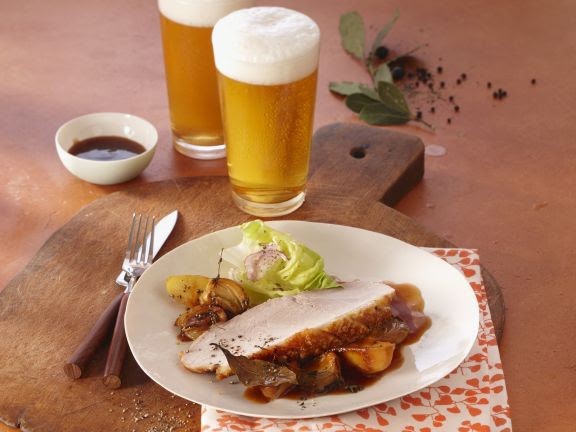 Beer and a roast meat; source: eatsmarter.com
2. Duck Breast with Seasonal Vegetables with Scotch

Duck meat is distinct from meats that come from other birds, including chicken. It's arguably the yummiest with a strong meaty flavor and juicy, soft texture. It makes for one of the most delectable combinations when served with seasonal vegetables and paired with a high-quality whisky like Scotch.
As for vegetables, you may choose a robust vegetable such as cauliflower, carrots, broccoli or kale. Also, don't forget to add lots of spices to the meat and also vegetables to make the combination even tastier to match for a peaty scotch whisky.
3. Seared Chicken and Kale Salad with White Wine
Seared chicken and kale salad is a fantastic dish you'll find difficult to resist. The pan-seared chicken served with a salad made with marinated kale and dressed with rich, savory dressing, tastes super exquisite. But that's not all, the dish can make a super epic pairing with a white wine. You can try a lighter varietal or perhaps a popular pinot grigio, or one of my favorite whites and travel to Santorini in a glass with the Argyros Assyrtiko.
Now, seared chicken with kale salad is made with other ingredients besides chicken breast and kale. These include peach, clove garlic, lemon, carrots, Parmesan cheese, and vegetarian Worcestershire sauce. The rest are tahini, black & white sesame seeds, dijon mustard, and a spice blend made with; whole dried parsley, garlic powder, smoked paprika, and onion powder.
Sounds like a combination you'd like to try? If so, the good news is that you don't have to bother with shopping for the ingredients (which by the way can be a major hassle to source) as you can conveniently source them from a meal kit delivery service provided it's available in your area.
Blue Apron currently ships to more than 30 US states, including New York. Seared chicken with kale salad remains one of their most incredible meal kits. When you want to cook the delicacy, I'd suggest you source the ingredients from this meal kit delivery service if you have that option. That's because this company offers fresher and cheaper ingredients compared to your local grocery stores. Apart from that, it provides a step-by-step recipe for cooking this dish so that you don't have to spend effort watching videos about how to cook seared chicken with kale salad.
Don't trust Blue Apron or any other meal kit provider in New York for one reason or another? If yes, taking the time to read about the top ten best meal companies for meal kit services in New York 2021 might help change your attitude. The article dwells on Blue Apron, Hello Fresh, Sun Basket, Home Chef, Purple Carrot, Freshology, Marley Spoon, EveryPlate, Grubhub, and Seamless. These are individual meal kit services in New York.
4. Fresh Prawns with Pinot Noir Rosé
Do you love seafood? Also, are you a fan of wine? If you answered yes to both questions, you should try fresh prawns with the 2020 Whitehaven Marlborough Pinot Noir Rosé.
The delicate blend of sweetness and saltiness, the meaty flavor, and the soft texture of fresh, well-cooked prawns combined with the clean acidity and intense red fruit flavors of the elegantly refined wine that lingers in the mouth, make this seafood-wine combination a truly one of its kind.
5. Glazed Jerk Chicken with Rum

Glazed jerk chicken offers a sweet yet complex flavor that deserves pairing with another food or a drink of the same flavor profile. Taking several drink options into consideration, many people would pick Rum as their favorite delicacy pairing item since rum originates from the same cuisine.  Plus, the drink similarly offers a sweet yet complex taste attributed to the molasses used to make it. But don't think rum only comes from the Caribbean, Guatemala is famous for its rum and also consider a look at another award winning rum from Colima, Mexico.
6. Pickled Vegetables with Bourbon
Pickled vegetables are those that have been preserved through the pickling process to extend their shelf life. You can pickle your veggies if you know how to perform the process, or get already pickled ones at your nearest grocery store or supermarket.
One of the best ways to consume these veggies is to pair them with the right liquor. Bourbon is a meticulously brewed whisky that offers an elegant flavor. Pickles, on the other hand, provide a unique tang characterized by a little bit of savouriness and sourness. Combining both flavors can make a whole difference when it comes to pickled vegetables and the right pairings.
Surprised? Well, why not donate a Friday evening slated for the latest Netflix to sample this pairing. Trust me, you'll be pleasantly surprised too.
Final Thoughts
Many foods can pair with an alcoholic beverage to deliver an experience worth remembering.  Having said that, some of the most incredible food plus liquor pairing ideas worth trying include; roast meat with beer, seared chicken and kale salad with white wine, as well as fresh prawns with Whitehaven Marlborough Pinot Noir Rosé. That's not to mention duck breast plus seasonal vegetables with Scotch whisky and glazed jerk chicken with Rum too. All delicious, all worthy of a sample one evening in your future.
So where are you heading next? any new adventures planned for the 2020s? More importantly, which pairing do you intend to try first on your vacation? Feel free to tell us and don't forget to let us know how it went.