Wally Lake Fest, the three day weekend festival held on Lake Wallenpaupack is just days away. This August 22-24 the lake region of Pennsylvania's Pocono Mountains will be crowded as visitors and locals plan to celebrate one of the last weekends of summer on the water.
Last year was my first experience at Wally Lake Fest and before the festival officially kicked-off I decided to take a sunset tour of the Lake Wallenpaupack to learn more about the history of the lake I've spent many summer afternoons enjoying. A very insightful and scenic tour.
Yet, the tranquil waters would soon give way to a three day weekend party on the Lake. Actually, the festival is more than activities held on the Lake Wallenpaupack itself, you can see the full lineup for Wally Lake Fest events for 2014.
The Wally Lake Fest Boat Parade
Perhaps the highlight of the special events is the annual Wally Lake Fest Boat Parade. Selected or perhaps accepted (semantics) as a Boat Parade judge I arrived early to board a special pontoon boat and we headed out to view the boats for the first time.  Working with the local Poconos Mountains Visitors Bureau  and the main sponsor from Chant Realtors, I learned how the parade continues to grow in size and excitement each year.  I believe I can speak for everyone when I say, we were all impressed with the dedication to design and the "Wallyfest" spirit displayed on each boat for passengers of all ages. From Gilligan's Island to Pirates, from a dedication to First Nations to Thank you to our Veterans, from the Wizard of Oz to the Wild Wild West all boat parade participants played the roles, dressed the part and enjoyed the afternoon.
How to Win the Wallyfest Boat Parade?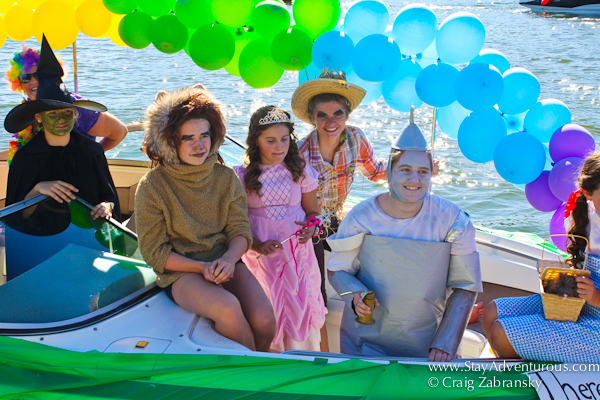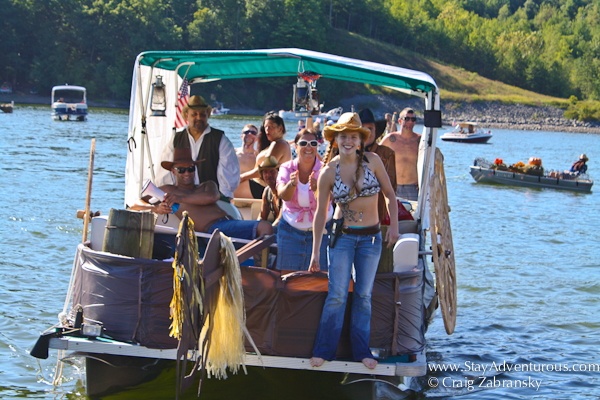 Judging was so difficult. Picking a winner (or winners) was no easy task. The judges job was made easier with all the prizes, almost no boat went home empty handed, but we needed to select a top prize. We did.
Congrats again to the First Nations Boat.
I am not judging again this year (nor did I enter a boat), but for some friendly advice to contestants – have a purpose to your theme, make it something you love and believe in, and definitely have fun. Smiles are noticeable and appreciated. Good luck everyone.
Stay adventurous, Craig
I was honored to be a judge during the Wally Lake Fest Boat Parade last year and really enjoyed the entire "Wallyfest" experience. Thank you to the Pocono Mountains Visitors Bureau for inviting me and also trusting my judgements.