The hotel manager of Xixim Hotel started walking down the beach towards me as the sun was setting over the Gulf of Mexico. He advised me to capture the Yucatan sunset from the rooftop of the building by the pool. Apparently it held the best view. Honestly, I was content watching it among the countless seashells on the property's virgin beach outside of Celestún, Yucatán, but I heeded his advice. I am glad I did.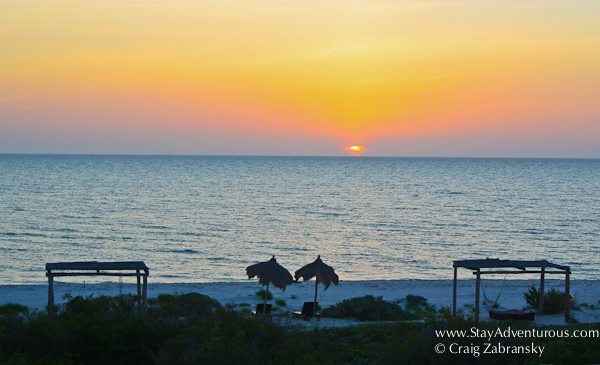 I hurried up to the rooftop to capture what became more than a Celestún sunset. I captured the essence of the place and the essence of Xixim Hotel.  I often put more into to focus than the sky and the sun during the sunset. I focus on being present, in the moment, and appreciating my surroundings.  We all have our moments and the sunset hour is my time, my reminder to do just that. And although the colors of the sunset weren't the most brilliant I've seen that evening, the moment allowed me to take notice of this unique place.
Later the hotel manager asked me, "Did you notice there were no power lines blocking the view?" Truthfully I didn't, but it made sense, as there wasn't much to see except a few Xixim structures, the jungle, and the Gulf of Mexico from my vantage point. Even just 10 km (albeit via an arduous dirt road) from downtown Celestún, the property felt oceans away from anywhere. It became a perfect place to connect to nature and reconnect to oneself. My time there was too short.
Stay adventurous, Craig
Special thanks to Premium Yucatán and Xixim Hotel for inviting my to experience their unique hotel. Also, as always my thoughts and experiences are my own. Happy Sunset Sunday.