When I first flew to Mexico City on assignment in 2006, the project was still being negotiated. Attending a dinner that week we were discussing the details of our initiatives over an impromptu tequila tasting when I was asked my thoughts. I'll never forget my answer – I literally said, "Mexico was my destiny" and that we would get this project.  I knew it, it wasn't just confidence, but almost as if, well as if Mexico was part of my destiny and become a bigger part of my life.
Needless to say we were awarded the project and the next eighteen months I spent many of my days in Mexico. My personal love affair with the country began and has yet to end.  Those adventures helped continue my career transition to a travel content creator including assignments working directly with Mexico as an ambassador for Mexico Today, a host for Mexico Tourism video series, and as a keynote speaker at ATMEX celebrating ten years of adventure travel in Mexico.  Plus there is also this Stay Adventurous platform with my Mexico Travel posts and Mexican destinations highlighted on the Staying Adventurous podcast.
My Destiny in Mexico Continues
Recently, when traveling to the Yucatan chasing cenotes, we stopped in to visit the new resort in the middle of the jungle – Destino Mio. I originally though the words translated to "my destination" but I learned my Spanish remains rusty and it actually Destino Mio means "my destiny."
I smiled.  Apparently I am still on the right path.
This luxurious oasis in the middle of Yucatan jungle offered resort where visitors can escape and recharge spending nights glamping or taking over an entire renovated hacienda. Sadly, I did not stay over (on this trip), but we did take lunch, drink a few craft cocktails and enjoy a cenote swim.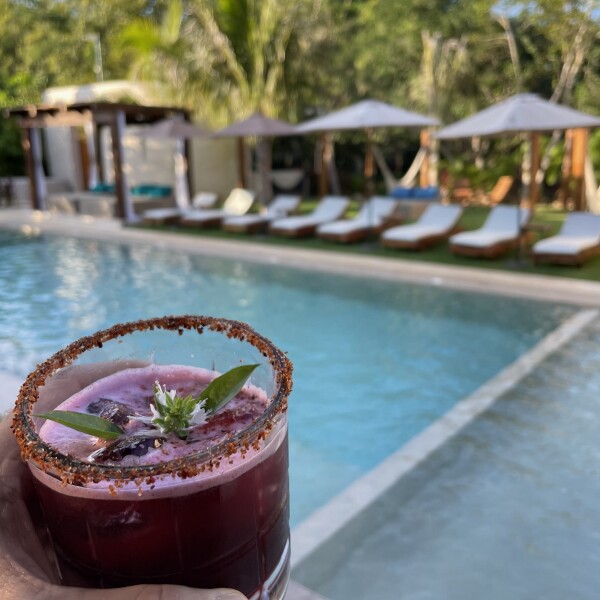 The El Ojo in Destino Mio for a Yucatan Sunset
Yet, it was my time atop the viewing tower, al mirador El Ojo (the eye), to take in the sunset that left the biggest mark on me. As you know I love the sunset with the Sunset Sunday series through the years too.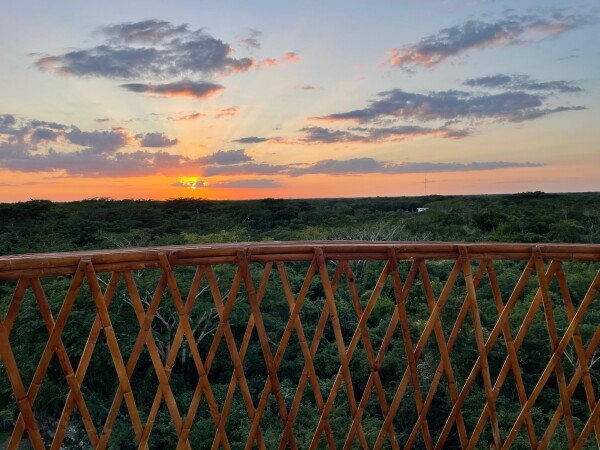 The towering structure seemingly designed to work with the environment such as on an Avatar movie set gave a sense of connection to earth even before taking in the views from its platform. One walks a spiral staircase to reach the top of the platform complete with comfy couches and a 360 degree panoramic view of the surrounding jungle. Worth the climb in the daytime for the views alone, here we relaxed after a few hours experiencing the property to watch a spectacular sunset. Again, the smile just appeared on my face – just another day living out my destiny in Mexico. Viva!
Happy Sunset Sunday
Stay adventurous, Craig
We visited the resort during my travels working with Visit Yucatan. For more details on my entire adventure Chasing Cenotes, be sure to tune in to my latest Staying Adventurous Podcast – Exploring the Yucatan.