The city of Toronto is incredibly diverse, and just like the city itself, the food you can taste in Toronto is diverse. Due to the international and various influences of the people, this culturally diverse city can offer you some of the very best worldwide cuisines.
Whether you are here for a quick bite or you are in for a nice and longer dining experience Toronto has got you covered. The food scene in Toronto is truly varied, and there is something for everyone.
Though it may seem like a daunting task to pick the right place because you have many choices to choose from, I'll do my best to present some of the best restaurants in Toronto where you can enjoy some of the most delicious food and have a great time there once they are all re-open.
You need to trust me on this when I say that these venues are the best out of best, and be ready to check them out if you haven't already. The top restaurants in Toronto are:
1.      Baro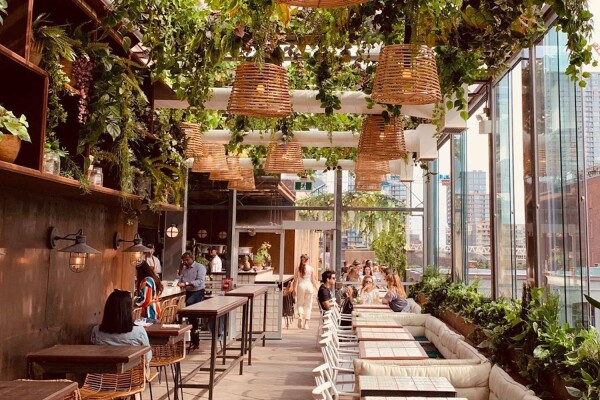 Baro is a large four floor venue that attracts many people and shares so much of a Latin vibe for those who don't know. Baro restaurant is where you would want to go if you want to experience traditional Latin culture and cuisine.
The ideal setting for a culinary experience in Baro located on the famous clubs in Toronto street "King West" is surely the trendiest Rooftop Patio on the venue's fourth floor. This restaurant is definitely in the top five places you need to check out if you never have.
2.      George Restaurant
With its location on Queen Street, George restaurant is a perfect place for everyone who loves a good five, seven, or ten-course tasteful meal. There is also a three-course a la carte menu, which is also popular among people who regularly come.
The George restaurant is a top-rated venue which is not hard to find as it is right in the heart of Downtown Toronto. You'll experience here one of the best meals in the city – all dishes have an exotic taste and are very much tasty.
3.      Alo Restaurant
This stylish venue is just right at the corner of Queen and Spadina Streets. A high-concept restaurant on the third floor of the historic Victorian building has an outstanding vibe. The restaurant represents much of French cuisine, and since they are innovative with the menu, it changes with the seasons.
4.      Canoe Restaurant and Bar
The canoe is just like the 360 restaurant when it comes to offering a breathtaking view of the city of Toronto. The location of the Canoe restaurant is high atop TD Bank Tower, on the 54th floor.
Inventive Canadian cuisine and beverages, such as wine and beer, reflect the county's diverse landscape, culture, and history. Some of the reviewed recommendations as best for this place are tea-smoked duck breast, Quebec foie gras, and Ontario burrata.
5.      Grey Gardens Restaurant
If you find yourself in Kensington Market, don't forget to check out this amazing and vintage restaurant. Grey Gardens is a place with an outstanding menu and a long list of wines. The dishes that stand out the best are sweet shrimp with watermelon radishes and Peking-style duck breasts.
6.      Ardo Restaurant
Ardo is one of the favorite and best-known Italian restaurants in Toronto. This notable and sophisticated venue serves extraordinary kinds of pasta, pizzas, and many other dishes that make this restaurant one of the best.
If you cannot go to Italy to try out some special food, Ardo is certainly a great place to bring this experience closer. This amazing restaurant is the closest one can get to represent traditional Sicilian dishes.
7.      360 The Restaurant at the CN Tower
This restaurant is one of Toronto's finest, and it uses market-fresh and locally sourced ingredients to ensure the top and fine quality for dining.
It's not just food and finest beverages you'll get to enjoy here, but a magnificent view of Toronto also – as this restaurant is atop the iconic CN Tower. So if you wish to celebrate special occasions in style, this is a perfect place for you.
8.      Chubby's Jamaican Kitchen
This restaurant is a real representation of Jamaican cuisine in the city of Toronto. The main dish you must try here is jerk chicken, and the fun fact is that it takes four days to prepare it.
Also, you should not miss out on trying some of the best burgers and coconut-crusted fish; these dishes could make your day better. When it comes to deserts, the best offers are passion fruit and coconut cream pie.
9.      Casa Portuguesa
Casa Portuguesa is the place in York, a large district in Toronto. Though it is a bit further than Downtown Toronto, it is still a place you should check out if you are a fan of Portuguese cuisine and you can't travel to Lisbon.
Some of the best meals you can taste are two sides of chicken with a signature hour Piri Piri sauce, Roasted Octopus, and Pork and Clams, a dish from the Alentejo region of Portugal.
Well there you have it, my top 9 selections for the best restaurants in Toronto. I am looking forward to returning to dinning in them really soon, hoping for a summer timetable as things progress in Ontario, Canada. We look forward to everything opening up, and I am looking forward to eating out of my favorite places again soon.
Yet, my question to you…which one of these dining experiences might you fancy?
-Asaad