Full disclosure – I don't ride. Not yet anyways. Yet, I am attracted to the adventure of it since it seems largely based on a feeling a freedom. A feeling growing in popularity in recent months for many of us.
But even if we don't ride, it doesn't mean we can't appreciate the essence of the motorcycle scene and it merchandise.  Some of us wear the clothes and love its fashion and others simply sample the products.
For me, I recently received a Viking Cycle Backpack to sample and have used it for the last month as my backpack. This is what I discovered.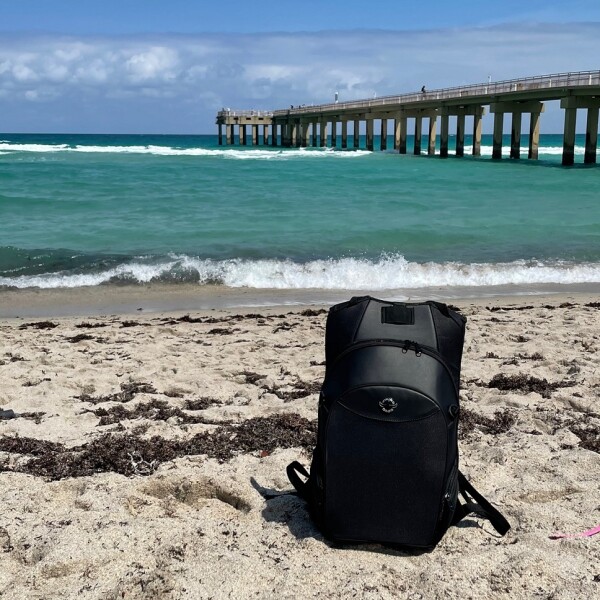 What did I like?
The solid black color and sleek design of the Viking Medium Black Street Sportbike Backpack provides a handsome start to the bag and I learned to like the hardcover durability. The heavy duty construction allowed me to put in select items, such as my soft leather dress shoes for a recent play performance in Miami, and feel confident they would not be crushed in away.  They shoes kept form as the bag keeps its shape.
What Else did I like?
Additionally, I am a fan of the included rain covering. Of course, when dreaming of riding, we don't often dream of riding through rain storms where everything we own may get soaked, but riders do need to address the elements.
This backpack comes complete with a rain covering enabling it to stay dry (drier) in times of rain. And although I haven't used it directly yet, but I know the need may arise as I enter the rainy season in south Florida.
What else did I like?
I appreciated the inside sleeve. I never considered this a bag for my laptop at first, but it is designed for it, the compartment  became a perfect way to secure my laptop. It provides protection and also isolation for my important cargo.
It also has a compartment for smaller items too such as keys, wallet, with another space for eyewear too.
What did I love?
I know, I mentioned I don't ride, but we still buy items to feel a certain way. Perhaps materialism gets us all at some point, but there is something about a sleek black bag from Viking Bags just made for a smile on Miami Beach. The color, shape and image the bag provides has become something I've grown to really appreciate with each use. The well made luxury represents function and fashion.
What to take note of?
I am normally a packer that tends to over-stuff my backpack.  Perhaps it stems from my earlier travel days when backpacking through Costa Rica or Europe by foot, but this is one backpack that keeps its form and with a stiffness that does not allow for over-packing. This will not carry as many items to make it a sole bag on any trip, but continue to serve as great accessory bag for day trips or events.
Well, there you have it, a look at this Viking Medium Black Street / Sportbike Backpack which retails for $89.99 on the Viking Bags site. currently Mother's Day sales can fetch an additional 20% off.
Stay adventurous,
Craig
Disclosure. I was gifted a backpack from Viking to review. The thoughts, words, images  and opinions of this product are uniquely my own.