I'm sure I'm not alone in the world of travellers when I say that sunset is one of my favourite times of day. Not much can beat sitting and watching the sun go down as the sky erupts into shades of marshmallow pink and tinges of orange. I'm lucky enough to have witnessed the sun go down in many different corners of the globe, but my favourite to date has to be at the top of Mount Rigi, right in the heart of Switzerland. There's a reason why Mount Rigi is also known as the Queen of the Mountains.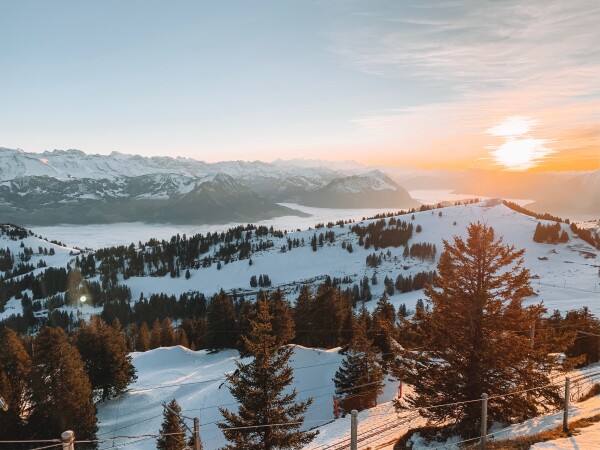 Mount Rigi is a highly recommended day trip for any visitor to the nearby cities of Bern or Zurich. It's easily accessible by train, and although it's not a cheap trip, it is worth every penny. From Zurich, you can get the train from the main station to Arth-Goldau, then you catch the Rigi Railway up to the top of the mountain. There are plenty of things to do on Mount Rigi, from hiking trails, to winter sports. Whatever your reason for visiting, one thing you need to do is to time your visit with sunset. We happily spent the entire day walking around at the top of the mountain, admiring the views and drinking hot chocolate – we were determined to wait out the cold.
As the sun started to disappear, we were met with a gorgeous orange sun that slowly turned the sky pale shades of pink and blue. With a backdrop of jagged mountain range, it certainly made me realise just how small we are compared to the world around us. Awe is probably the best way to describe the sunset in one word. All I could do is sit on an icy cold bench and stare. Stare out at the slowly changing sky, in silence, taking it all in. Just as I thought it was at its most beautiful, it got even better.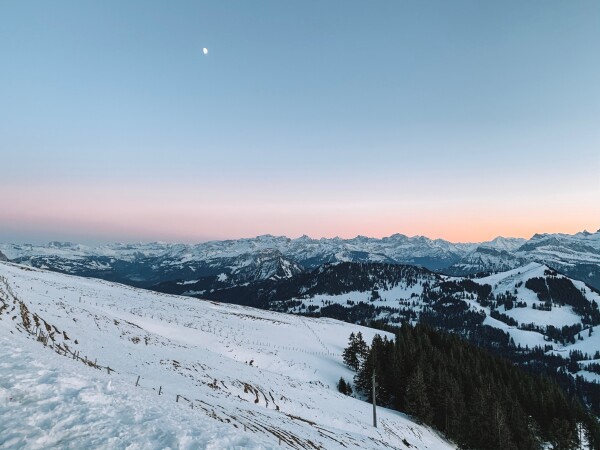 I've never experienced a sunset that has moved me so much. One that truly made me sit and think. The butterflies in my stomach were bubbling over, like a pot you leave on the stove for too long. The beauty in front of me filled me with so much happiness in that moment and I felt so grateful to be there, experiencing it. It made me realise just how lucky I am to be living my life, full of travel and adventure. I felt a deep nostalgia for all the places I've been, and a longing for the places I have yet to explore.
Author bio
Laura Elizabeth is the author of travel and lifestyle blog One Way to Wanderland. With an insatiable obsession for travel, when she isn't hopping from country to country, she's at home in London, England, planning her next trip (or five). Follow her adventures at @onewaytowland.