The Seychelles, a country of plenitude with only a few flaws, is very small and divided into many islands. It is situated bang in the middle of the Indian Ocean  1,000 km from Madagascar and 3,000 km from India. The largest Island is Mahè is where the capital Victoria is found and where the sunsets are like postcards from paradise. I discovered this place after writing a guide –  Paradise found at last! – that analyses all the 196 world countries to help you to choose the best country in which to live on the basis of ones personal needs, expectations, weather, economic situation, and more.
The Seychelles one of those countries is largely known as a tourist destination for the wealthy, but it is also an affordable place for budget holiday makers too. The islands offer access to nature, crystal clear seas and awe-inspiring sunsets. Nature here is extremely generous too with towering granite mountains, tropical forests with coconuts as big as water melons, and more. The local population hospitality and kindness makes one feels immediately at home and the local dwellings are simple.  And if you have a spirit of adaptability this archipelago could represent the paradise that you dream about, although it may not be for eden for everyone.
Seychelles Sunset in Beau Vallon
Burned into my memory, the first sunset I experienced at Beau Vallon (the north-west coast of Mahè), was on a hill immersed by the tropical forest with the Indian Ocean below. The sky was continuously changing colour, from fiery red to orange and purple, with the silhouette of the palms between myself and the ocean. At the same time, looking up, I was amazed to see giant bats that were circling high above searching for succulent fruit. What an incredible and unforgettable experience! A Paradise.
Are the Seychelles Your Paradise Found? 
To all lovers of nature I highly recommend to pay at least a visit to this gorgeous corner of the world. If you are contemplating the Seychelles as a place where to move to start a new life, you'll find 50 key issues that influences the life of an expat such as Climate, Seismic Risk, Cost of Living, Salary Levels, Danger of War, the Presence of Endemic Diseases, Medical Care, Respect of Human Rights (and many others). All are discussed and detailed in the eBook Paradise Found at Last.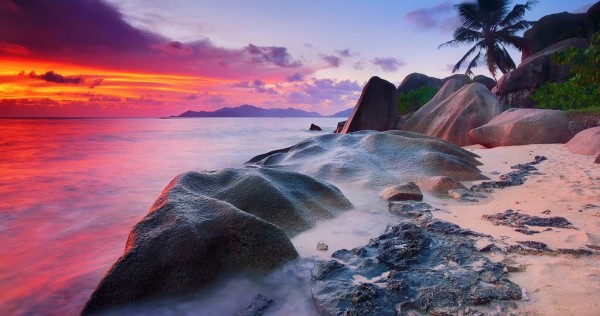 Also, understand there  are 196 countries in the world. Why randomly choose a place without carefully analysis and then you can find your eden? Is it the Seychelles? Where else can it be? Have you found your paradise?
-Roberto Stanzani,
Roberto is from Italy although he is a  citizen of the world. Together with collaborators they wrote a guide – Paradise Found at Last to provide data and analysis on finding the perfect place to live base don what matters to you.  Find out more information on the guide book > here.