We often ask the question where does one travel to next? Sure, many of us have bucket list trips, places we dream about going like Santorini, Paris, or Alaska, yet in a lifetime of travel many discover it is often the places off the beaten path, the lesser known destinations that can capture our heart. We discover gems we never knew existed until we travel there.
So where do we go? Where are these gems? How do we choose?
One way – spin a globe and let our finger point to the next trip?
Incredible India
India. Popular for Deli, the Bollywood experience of Mumbai, the wonder of the world Taj Mahal palace, beach breaks and sunsets of Goa, and the origins yoga found in Rishikesh at the footsteps of the Himalayas, there are a multitude of reasons to visit India.  But India is a massive country, with plenty of places and over a billion people   And well if your finger is in the middle, you may just find it the major metropolis of nearly 10 million people called Hyderabad.
Hyderabad, India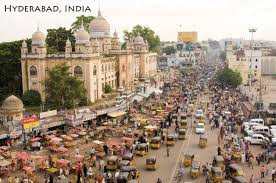 The city, considered the pharmaceutical capital of India is booming today housing massive complexes from many of the world's top technology firms and biotechnology too.  Creating a city nickname of Cyberabad, it doesn't seem you'll find a gem on a business trip. But wait – travelers may find themselves more interested in its original nickname – the city of pearls.
Well, I looked it up and with such an eclectic mix of architecture the city certainly fascinates. An edgy old town, gives way to luxurious palaces of past kings, and now its ultramodern landscape dominates neighborhoods. There is a style for everyone with places to visit in the day and a nightlife to experience in the evening.
What to do in Hyderabad?
The gateway to the city, Charminar, is a monument and mosque built in the late 1500s.  It resides in the center of today's local market, the Lad Bazaar, and visitors can get an impressive 360 degree view of the marketplace bustle (and entire city inside) when climbing the steps of its minarets. The market itself is known for its exquisite bangles, pearls and other jewelry. Couple that with an apparent lack of tourists it seems to be a place where shoppers can still browse in peace.
Before modern "tech" riches, the city and region often obtained its own sovereignty and the local ruling Nizams have been cited as some of the richest people in the world. One place where the wealth is on display is the Chowmahalla Palace. Inside nineteen huge chandeliers adorn the ceiling of the ornate throne room for starters.
Also must visits include the Salar Jung Museum with one of the largest one man collection of antiques dating back to 1st century. The artifacts are collections of Asia, Europe and even North America which include Mughal miniatures, Japanese lacquerware, Chinese porcelain, Quran collections, exotic jade belonging to past Emperors and more. Hussain Sagar Lake, famous for the massive monolithic Buddha statue, remains the perfect city escape for romantic strolls or evenings outside in a more natural (even if it is man-made) setting.  As for dining visitors must also order up Biriyani, th epopular delicious Indian dish with its origin dating back to this city. Plus, for those interested in movies, head to the Universal Studios of India and the Bollywood style film set and visit
Will I visit Hyderabad?
I haven't booked my plane ticket or made my Hyderabad hotel booking but I am definitely extremely intrigued. After spinning the globe, I learned a little more about a country that was already on my list, but also learned about a destination inside the country that wasn't. I'll keep you posted when my travels take me to Incredible India, because I often don't view it as a will I travel to India, but rather more of a when.
Staying Adventurous, Craig