It was my first time back to Cozumel since I was a kid in the 80s. I wondered what changed, what I'd remember and if I'd be able to catch a Cozumel sunset on the water.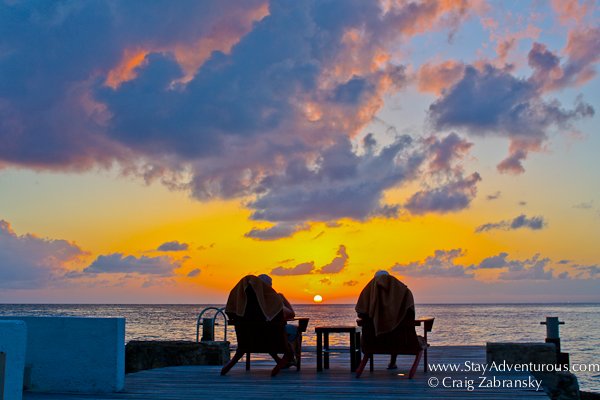 As much as I love the Riviera Maya and its Caribbean sea climate, culture and cuisine, I do find myself gravitating to Mexico's West Coast when thinking about the perfect sunset. In fact last year's Sunset Sunday Calendar included three images from Mexico and all three were west coast.  Mexico made the 2015 Sunset Sunday Calendar  but with a new destination and the image this time came from Hotel B in Cozumel.  An east coast sunset in Mexico.
Just Be Ready for the Sunset in Cozumel
The boutique, Hotel B Cozumel, just a few minute taxi from ferry terminal on Cozumel (ferries depart from Playa del Carmen on the mainland) seemed like an ocean away. Close to popular tourist destinations of San Miguel (main town) and  Chankannaah Park (water park) , the boutique property holds a trendy vibe and is a perfect place for spending a few days on the island of Cozumel. I also discovered it is a perfect spot to relax and watch the sunset.
Get the Sunset Mindset
Sometimes we need to take and make time to watch the sunset, to travel to a new destination and celebrate the sunset as a holiday. I did just that in Cozumel, in fact I just let it be. Happy Sunset Sunday.
Order the 2015 Sunset Sunday Calendar:

Stay adventurous, Craig
Also, special thanks to Hotel B Cozumel and Mexico Boutique Hotels for having me as a guest at the property.