"Wow, look at the sunset," I said walking out on the deck. Then a fellow passenger said, " you just missed it," but I knew I didn't.
None of us did.
All dressed up we headed to the ceremony provided NCL (Norwegian Cruise Line) Special Events on the 17th deck of the Getaway.  My parents were set to renew their vows as a celebration of their 50th wedding anniversary on board a cruise through the Caribbean.
300th Sunset Sunday
For each Sunset Sunday milestone, the 100th, 200th, and 250th, I always looked for the right sunset to reflect on the series. To write words to encourage others to not just pause and watch a sunset but appreciate the uniqueness of each moment and the chance to enjoy the beauty of this universally shared daily occurrence. To remind us all how something so routine and simple holds so much beauty and magic.
This week marks the 300th sunset Sunday post in the Sunset Sunday Series. For a while I knew the milestone was approaching and chose to share my parents anniversary moment because it is a milestone too; a milestone of love. My parents have seen more than 2,500 Sunsets together since taking their initial vows and I am sure they loved many of them. Yet I suspect this one stands out a little more than most.  Well, I know it does for me and probably does for most of the family who also made the trip to share in the celebration.
Many More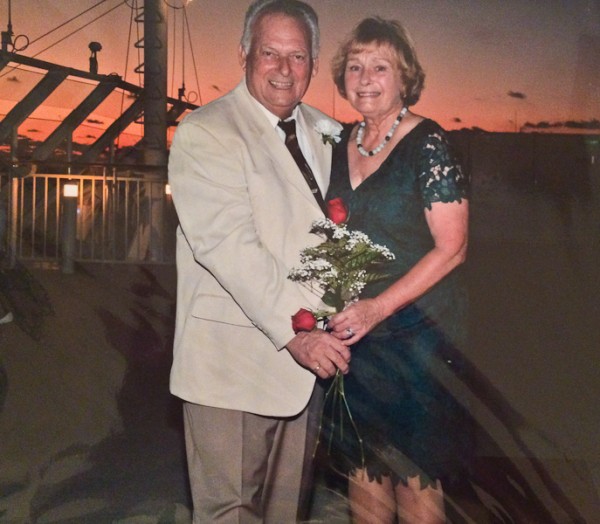 As for beyond 300 Sunsets, the Sunset Sunday series will continue. With its recent resurgence in late 2017 you can expect the series to continue into 2018 and beyond. Actually, I can confirm plans to make it to 365 sunsets (that already takes us to at least 2019) if not even further. And yes, I am still on the quest to complete the Sunset Sunday Map, which means I will need more help from you with Sunset Sunday Guest Posts. (Submit one).
As for this sunset, the 300th, the celebration of my parents 50th anniversary I also chose it for its symbolism. Yes, the sunset represents the end of a day, a mark of time – in this case 50 years, but the ceremony was also held in the bow of the ship. We were all looking forward. We were looking to the future. And with the love shared that evening and through the entire amazing "Getaway" in western Caribbean, we are all looking forward to more moments as a family to capture this feeling. And I wish many more moments like this one to my parents too. Or as my Grandpa always said when toasting at holidays and birthdays "many, many more." Happy Sunset Sunday.
Stay celebrating, Craig
I personally purchased the romance special event services for my parents and recommend the event to anyone looking to celebrate a major anniversary with their family. Thanks again NCL Special Events for making it so special.