Order your copy of my new 2017 Travel Calendar Today
New Calendar Focus for 2017
After three years of sunset calendars based on the Sunset Sunday Series I decided to take a different direction with the 2017 Calendar. The new calendar still offers adventure travel photography from across the globe but the images correlate to destinations on the Staying Adventurous podcast.
Each and every travel experience teaches us not solely about the destination, but lessons we can take with us all life's adventures when we shift our mindset. All 12-months will be from a destination where I discovered a mindset shift I highlighted in the Staying Adventurous Mindset Moment.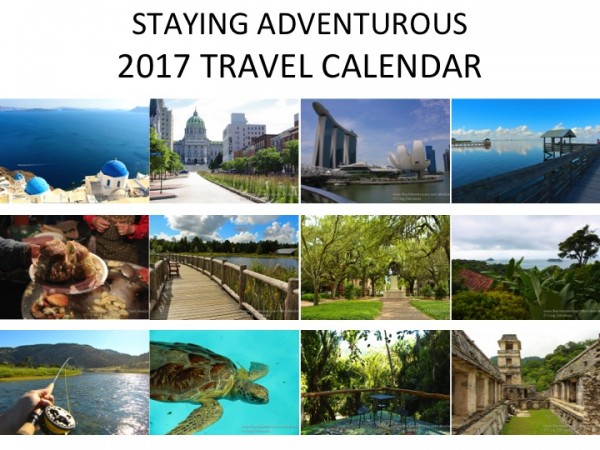 Images are from the Costa Rica, Greece, Mexico, Singapore, and the States (Florida, Georgia, Montana, New York, Pennsylvania, and Texas)
The calendar makes a popular Holiday Gift and provides inspiration the whole year through as the mindset mantra is listed beside the destination. Order your copy today as a gift for friends, family, co-workers, and don't forget yourself too
You'll find it available for sale on Lulu at 25% off until Christmas Day > here.
Happy Holiday and Stay Inspired through all of 2017, Craig