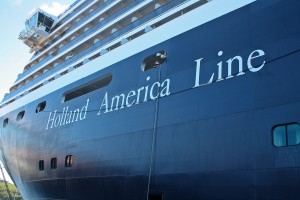 I explored many new destinations with Holland America and on each of my two cruises on board the luxury cruise line my itinerary showcased dream destinations, dare I even say, bucket list destinations.
My first voyage included a passage through the Panama Canal along with plenty of memorable Caribbean beaches and the second explored American's Last Frontier – Alaska with a sail into Glacier Bay National Park and a stop in Victoria, BC.
But besides visiting such iconic destinations, I gained appreciation for the ships (Westerdam and Zuiderdam) along with enjoying the experience at sea. Holland America's high level of service, the many (and delicious) cuisine options and the entertainment all left their positive mark too.
I'll admit to enjoying wearing a tuxedo on a formal night too, but regardless of your dress code, a stop for a cocktail listening to the classical music at the "adagio strings" before dinner and then even hitting the casino late night one evening (especially on formal night) are must dos on board.
Also, the elegant breakfasts along with with exquisite lunch and dinner options at main dining coupled with its specialty restaurant, the Pinnacle Grill are reasons to cruise Holland America too. The entire experience at sea put a big Cruise Smile on my face.
The Holland America ship was my first cruise after nearly a twenty-year hiatus (and since my teenage years), so the bar was set rather high as I venture back into taking Cruise trips.
New Holland America Itinerary
As part of October's Cruise Smile sweepstakes Holland America offered one of its new cruise itineraries in the Far East as an option for one lucky winner. See the details on the entire itinerary here.
The 14-Day Japan and Taiwan Cruise Yokohama and Hong Kong voyage features four maiden calls for Holland America Line and three overnights – in Shanghai, Keelung (Taipei) and Hong Kong.
On this specific cruise, I know I'd really appreciate the overnights. One of my favorite ports of call with Holland America was in Aruba because we stayed till 11pm. The late departure afforded me the time to enjoy an Aruba Sunset on the beach. And in the Far East it is after sunset (and a day of activity and attractions) that these vibrant global cities come to life. The nightlife, especially the cuisine of both Shanghai and Hong Kong are musts.
And for someone new to Asia, especially someone who appreciates the Holland America brand and traveler demographics, I can easily recommend this itinerary as a great way to introduce yourself to the Far East.
Show Your Cruise Smile to Win (This Cruise)
How do you enter to win? Well hurry since today (October 31st) is the last day to enter, but basically all you need to do is upload a selfie with your Cruise Smile here.
Yes, it's that easy.
To learn more about the details, you can also read my earlier post on how to Win Your Dream Cruise Holiday  Good luck and stay mmiling, Craig
For all the contest details, please visit > CruiseSmile Contest Details. All the thoughts and opinions from my Holland America sailings are are my own.