I typed "Mount Helena City Park" into my search engine and attempted to use Google Maps to find the entrance point to the park and capture the Helena, Montana Sunset from one of the trails.
Maybe it was user error, but once I started the driving directions took me to a different place and I headed up into the hills surrounding the capital city alongside the park. I couldn't locate the park entrance. Then those few "extra" tunes from the live music at the Lewis and Clark Brewery on the other side of town started to apply the time crunch.  Even the extended summertime daylight (with a  late, post-9pm) couldn't save me, a Montana sunset viewing was suddenly in jeopardy.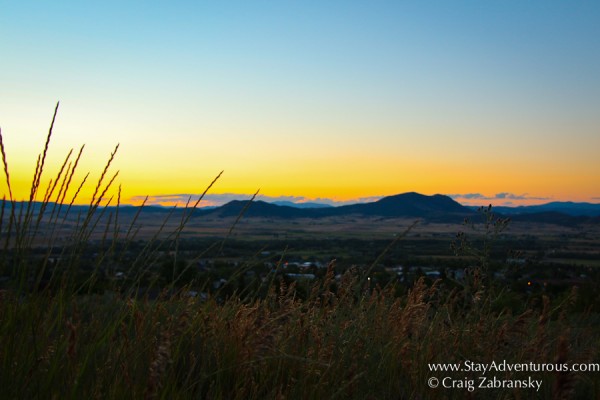 Then I stopped listening to the GPS and searched for a spot with my eyes and intuition and parked the car. I can't tell my exact global position, but I can tell you sometimes it's not about a physical location; it's about looking out on that horizon appreciating the colors, the contrasts, and the magic in the moment of yet another sunset.
The next day I found Mount Helena City Park, one the biggest city parks in the country, and hiked its trails in the daytime.  For me, my Helena Montana Sunset came from somewhere in the hills looking back down on the city and the distant landscape of Big Sky Montana.
Happy Sunset Sunday from Helena, Montana.
Stay adventurous, Craig
I was a guest of the Chamber in Helena, Montana and will be releasing a few posts, stories from my time in Montana in the coming weeks, so stay tunes. All experiences and opinions will be my own.