The seaside town of Sayulita has been on my "must visit" list in Mexico for years. The surfer-yoga enclave intrigued me from the very first day I heard about it, a day well before I ever I fell in love with Mexico.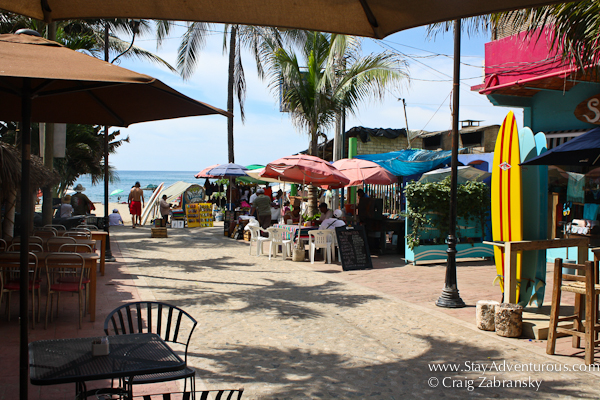 An hour north of Puerto Vallarta along the pacific coast's the small beach hamlet of Sayulita continues to grow in size and popularity. Here the perfect climate, along the Rivieria Nayarit provides a perfect chance to try outdoor activities, especially getting out on the water. One popular option, besides classic surfing is Stand Up Paddleboarding or SUP.
 SUP-Stand Up Paddleboarding


First off, it is not as easy as it looks. I normally surf a long board, nine feet, and can stand up and catch waves without much of a problem and my SUP board was even bigger, (bigger is better and easier to stand on).  I thought piece of cake. Nope.
Plus, when I watched others easily paddling along the water, I thought I got this, but I discovered  there is definitely a learning curve. Plus,  the curve is steeper when the water is choppy, which was the case on my day out on the water (stay making excuses).
Of course, I eventually did get up a few times (yes, I fell a few times too) and I did paddle across the ocean some, but I never fully mastered it, not this time. Who is a master after their first time anyway, right? Practice and patience were needed, but since I was being filmed across my Riviera Nayarit adventure, I had just a few moments in the water, and with a go-pro, I needed to kneel down for some better footage. Here is a sample of my paddlesurfing experience.
Advice for SUP first-timers
Instruction on where to stand on the board is critical. At first I didn't have any, but I did debrief after my experience, make sure you ask for the basics when you rent your first SUP. Also, realize it's a great full-body work out – wow. It exercises more muscles than you think.  My final bit of advice – enjoy it. I know I did and I'll be back out there soon.
Stay adventurous, Craig
Special thanks to my film crew, Riviera Nayarit TB and the Visit Mexico folks for providing access to a SUP board in Sayulita.  The experience was a needed humbling after I stuck my drive 12 feet from the pin at the natural island par 3 Tail of the Whale the evening before. This post is part of the Mexican March Madness Series for 2014.