One of the joys of city life is the weekend Farmers Market. Ironic perhaps, but all major cities seem to have wonderful markets filled with produce from the country, from the farmlands.  Amsterdam is no exception and the Boerenmarkt op de Noordermarkt (Farmers Market in Noordermarkt) is one of these exceptional markets.
An Organic Farmers Market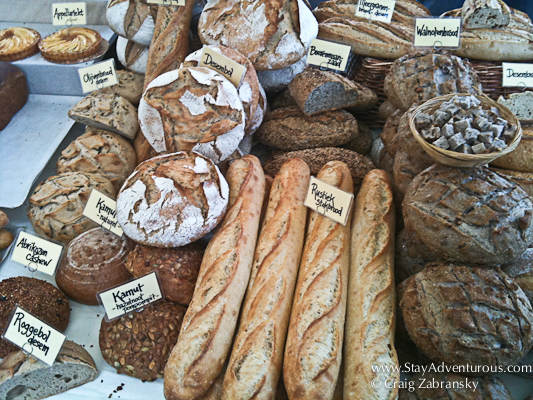 Started in 1987 to bring customers to a local café, the Farmers Market on Noordermarkt has grown from a local neighborhood event to attract people from all over Amsterdam each and every Saturday. Even rain didn't stop the crowds.
The market stresses organic produce and provides delicious options. On the banks of a 17th century canal, the square and market holds a most friendly vibe. On my visit, I started conversation for my first purchase with some of my only Dutch I knew "Hallo." (hardly advanced). The vendor switched and returned volley with an English "Hello," and then off we went discussing quantity and price in my native language.  And language was never a barrier in this local market and neither was the fact I wasn't Dutch. I felt at home. I felt as if I was in my native New Amsterdam.
In total I spent about an hour tasting and sampling. In the end I made some purchases; I left with my backpack filled with organic breads, meats, cheeses, fruits, vegetables, homemade dips, and eggs. All delicious.
Flea Market at Noordermarkt
Also a flea or antique market seemed to blend with the farmers market to make one market in the square. And I picked up a few items here too.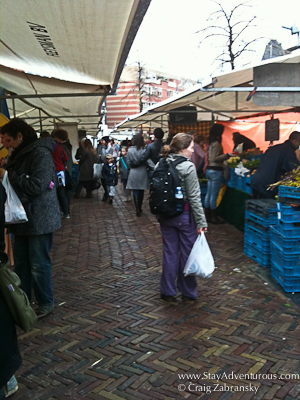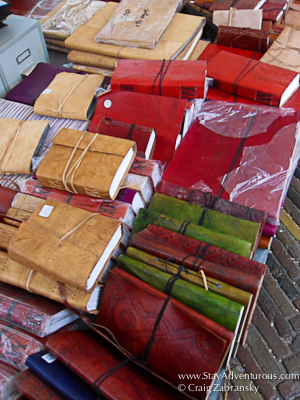 First, I purchased a postcard for my collection with nearly no writing but postmarked from early 1940. With the date so close to the beginning of World War II, it made wonder about the then immediate future of the sender and receiver. Did the postcard hold a special message seventy years ago?
I also picked up a journal; I often do. I love to purchase journals "on-location." I believe it gives them character not to mention it makes for my favorite travel souvenir.
Where is the Boerenmarkt op de Noordermarkt?
Although I traveled to visit the floating flower market in Amsterdam, the Farmers Market required no walk or tram for me. The market, located in a square on Noordermarkt, was directly outside my apartment (I did an apartment swap).
Yes, on Saturday I wake up to the sounds of commerce just outside my window. I quickly dressed and walked down the steep spiral staircase to find some lunchtime items. I was lucky.
But if you are not staying in Noordermarkt then you can either take the 3 or 10 tram to Marnixbad. Also, it is just a 15 minute walk from Central Station and located on the 3rd "gracht" canal, the Prinsegracht in the north west corner of the city. And if you are in Amsterdam on Saturday, it is worth a visit, especially if you are hungry.
Stay adventurous, Craig.
this post is part of the European Summer Series.