No, actually, 'Cinco de Mayo' (May 5th) is not Mexican Independence Day, the celebration begins at 11pm on each and every September 15th. The reenactment of the cry (or scream) for independence, "El Grito," takes places in most every Mexican village, town, and city.
It's a fiesta too. The Mexicans are patriotic. Actually, in all my travels, they are some of the most patriotic people I've met. What other country drinks their flag.  Yes, it's called a bandera (the flag)
You'll notice the Mexican flag is green, white, and red (left to right). And it's by the colors you line up a bandera. The green representing the independence movement becomes the  limes, the white representing the purity of the catholic faith becomes the tequila and the red representing the blood of the national heroes becomes the Sangrita.
Limes for the Green
Most people believe the salt is first and then the lime is post tequila. Not so. Actually, in my experience, a dish of fresh (properly) cut limes comes with the tequila.  People salt the limes, taste the lime and then taste the tequila. Yes, the lime comes first.
Tequila for the White
In Mexico, most drink a respectful tequila. It's a bit different from the college fraternity parties that caused many to give up on the blue agave spirit. It's the taste of tequila true connoisseurs crave.
Sure many ways exist to enjoy tequila and I love the Tequila Triple Play, but for the bandera, the tequila you purchase is sipped and since the flag is white, traditionalist might prefer the blanco or a silver tequila.  But, I find there is a forgiveness when ordering a golden tequila such as a repasado or an anejo. It's OK.
Again, since it is for sipping, it is expected (and not unpatriotic) to do multiple "banderas" with one serving size of tequila. However, at times people shoot the entire tequila and scream "Viva Mexico!" Yes, that's been done a few times.
Sangrita for the Red
Sangrita, no it's not sangria the wine drink, it has a "T." In fact if I had to compare it to anything I would say it's similar to a good Bloody Mary. And when you find a good recipe you keep it. Some places guard it like the Coca Cola secret formula.
Also, just like a Bloody, if it's the commercialized 'mix' and not homemade, it's probably not worth it. So if it's not "sangrita de la casa" don't even bother. In those cases, stick to tequila and limes and wave the flag another day.
Then once you have all three, it's simple. First, take a lime (salt if  desired) and suck on it, then second sip your tequila (or shoot it down if desired) and then third, chase it with a sip of the sangrita. Delicious. And then yell "Viva Mexico" because you just enjoyed the green, white, and red of the Mexican Bandera. Plus, it's patriotic.
Do many Mexican's drink Banderas of Tequila?
Maybe it's not ordered as such, or even taken with the 'al gusto' of patriotism each and every time, but you'll see it. It's intrinsic. It's just the way they drink tequila in Mexico City.
And after calling Mexico City home for some time my tequila episodes now start with limes, then tequila, and then a sangrita.  It usually continues with a second order, then another, and then …. Viva Mexico!
Happy Independence Day to our friends in Mexico.
Stay adventurous, Craig
So whether you use your Riedel Tequila Flutes or just a simple shot glass, definitely enjoy a bandera or two this Mexican Independence Day.  Plus, to learn more about Mexico Independence traditions and stories read some posts from my fellow Mexico Ambassador posts below. Viva Mexico!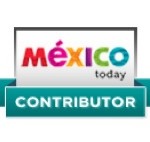 This  post is part of the Mexico Today program. I am being compensated for my work in creating content as a Contributor for the México Today Program.  All stories, opinions and passion for all things México shared in my blog are completely my own. Viva Mexico!