Cancun is famous for its resorts, beaches and fiestas but it doesn't often conjure images of beautiful sunsets. Arianna, a fan of sunsets herself, told me they are beautiful, but you need to look beyond the beach.
I met Arianna through twitter and asked her if she would share what beauty she discovered. She selected one of her favorite spots Nichupte Lagoon in Cancun. Here are her words and image…
In September you'll find sundresses, sombreros, mariachi and many holidays on a tour of the Mexican Caribbean. It's a place often referred to as the "Tourist Paradise," and I have called it home for  almost two years.
Cancun is beach, fun and entertainment, but you can also find relaxation. The Mexican Caribbean offers one of the most beautiful natural landscapes and at twilight times, Cancun can be the perfect place to chase after sunsets. I'm free from work after 6pm, the perfect time to look for a great spot that reflects the sun's rays.
Nichupte Lagoon in Cancun is one of the great attractions in the area. Visitors walk in, take a jungle trip, do snorkeling or set aside to watch beautiful sunsets.  Behind the Caribbean mangroves you can find good places to match shades and colors in your picture. This is one of my favorite spots, the place provides me peace, serenity, and beautiful sunsets.
–Arianna Banuelos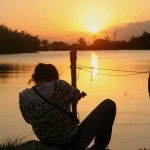 Arianna is a traveler enthusiast and photography lover. Born in Mexico city and resident in Cancun for almost two years, and works in social media for the tourist industry at Experiencias Xcaret (Eco-archeological Parks). You can find her on twitter @AryCancun