I arrived in Camps Bay, the glitzy oceanfront neighborhood of Cape Town a few hours early. And after finding the restaurant slated for dinner, I decided to walk along the seashore and pass time.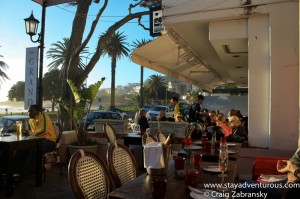 The roar of the ocean, the smell of the Atlantic, and the refreshing afternoon breeze put my mind very far away from my recent Africa. I seemed more than miles from the safari of Kruger and Chobe. But Cape Town has its own charm. Majestic mountains and stunning views are everywhere and Camps Bays has its share. Many people recommend Cape Town as  a must visit in life, and now with just a few steps on the ocean's edge I might agree.
Eventually, my eyes settled on a place called The Grand.  A perfect name and perfect outside patio with oceanfront views. I found the cocktail location.
The friendly waitress insisted I order the grilled calamari appetizer (I am glad she did) and recommended a few cocktails from the list. Order placed.  Then we started to discuss African adventures and with Namibia next up, she detailed he sand dunes hike. Wow, Africa offers so much. But for now, my mind shifted back to the moment and my cocktail.
I wanted to stay for dinner, but Blues was next. And I guess, I need to save dinner at the Grand for my next visit. From my time there, that alone may be reason to return to Cape Town.
Tip: Sitting outside is a perfect place to watch the sunset at Camps Bay.
This is fourth installment of the Culture Through Cuisine Series and the second of  five posts on Cape Town, South Africa. Additionally, this post is part of the All Africa All April (Almost)