When I arrived to Buenaventura Grand Hotel in Puerto Vallarta, I had a few hours before my scheduled dinner at the aptly named oceanfront restaurant, Sunset Restaurant. But with dinner slated after the sun took its dip, I decided to head to the beach to catch the sunset for myself. It would make for the perfect aperitif.
Since my 'welcome back to Mexico' Mazatlan sunset' left such an impression, I wondered what my welcome back to Puerto Vallarta might have in-store.  Could it compare? Either way, there was no better way to start my next chapter of adventure in Puerto Vallarta.
After settled into my room, I headed towards the crowded poolside bar to order a margarita. I walked into an afternoon fiesta in full swing. Getting my first drink took a few minutes so I started conversing with a fellow guests (in Spanish). I was reminded of moments at the Hotel Playa Mazatlan, as this hotel seemed very popular with both Mexican tourists and foreigners (us gringos).
I received my dose of tequila mixed  sweet and salty green goodness and walked down to the beach. There I settled in to my lounge chair and watched the magic of mother nature once again. Perfect; the perfect welcome.
The sunset started a very memorable evening too. I enjoyed the tasty menu at the Sunset Restaurant, and then conversed about future opportunities with the All About Mexico (girls) after they called me from one of my favorite dinner spots in Mexico City. Life was good.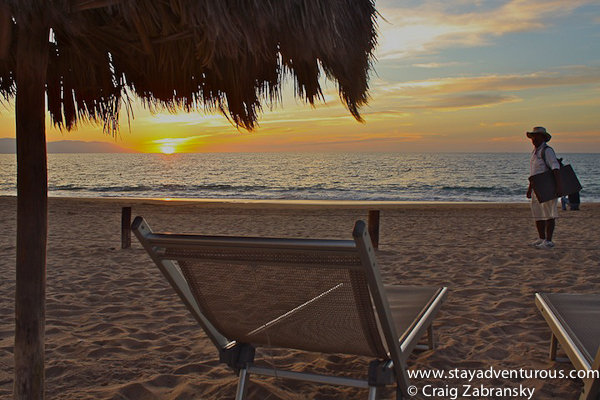 A memorable sunset, a lovely dinner, and a fruitful call. I was all smiles on my first night back in Puerto Vallarta. Happy Sunset Sunday
Stay Adventurous, Craig
This post is part of the Mexican March Madness 2011 series. Additionally, the culture through cuisine series spotlights Puerto Vallarta this week (March 14-18) so stay tuned.  Also, you can read more from me on Puerto Vallarta on the All About Puerto Vallarta blog.
Finally, a special thanks to Buenaventura Grand Hotel & Spa for being such gracious hosts.