On every trip I always search for a surf destination. And when I received the call to come to Mexico, I spent my first long weekend escape finding surf. I discovered Puerto Escondido in Oaxaca.
But, after many more months in Mexico, the only place I paddled out past the break to surf the swells of the pacific remained "puerto." That needed to change. Therefore, on my recent trip to the west coast, I added San Blas to my itinerary.
After a week in Mazatlan, I rented a car and made my way down the coast. The four hour ride was uneventful and rather enjoyable except that every radio station played only banda (a Mexican polka music). It forced me to make a true note to self, buy a pirated CD in the San Blas marketplace. I eventually purchased Lady Gaga.
When I arrived to San Blas around sunset, the seasonal town seemed largely asleep. It was still early in the season and everyone was still waiting for the winter inhabitants to arrive.
I found accommodations and entered a local dive bar, Billy Bob's Honkey-Tonk for a cerveza. A few 15 peso el Pacifico bottles  later and fully entertained by amusing stories about the town life and its characters, I asked where I can I surf?  They responded with "Stoners."
What?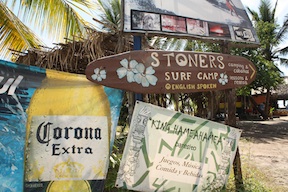 I learned they meant Stoner's Surf Camp. Apparently, a gentleman, last name Stone, started a surf school. Classic. And truthfully a perfect name for the town. I left smiling with a plan for tomorrow.
I arrived by mid-day to an empty beach. I found the school and rented equipment a board and leash cost 50 pesos an hour.
After a stretch, I paddled past the break with some ease.  The clean knee high waves didn't provide too much resistance. Sure, not epic surf, but actually I was rather thankful for the calmer conditions since I was a tad out of surf shape.
Looking back, I certainly didn't score too many style points on the water, but that was not the point at all. It never is. For me, I enjoyed two hours in the pacific paddling into waves, floating on my board, and even surfing some. It's times on the water that I truly feel alive, connected. It quickly became my best session in Mexico to date. Well, until the next afternoon.
stay adventurous, Craig
This is post 12 of 13 in the Winter Series – Beach Thursday, a Special Series on Stay Adventurous. this post is also part of the Mexican March Madness 2011 Series.