You can walk around the island of Flores in less than twenty minutes and I did many times. It's a small quaint place most tourists come to visit as a starting point for travel deeper into the Guatemalan jungle and the ancient Mayan ruins. Tikal, the most famous, popular and perhaps impressive of the ruins is just an hour away.
On one side of the island people come to watch the sunset. Cafes offer special happy hours and provide elevated views to allow people to savor the special moment. Perfect. On my first night, I visited the Italian open kitchen rooftop restaurant of Il Terrazzo to enjoy the moment myself.
It was a quiet evening, a calm mid-week moment and the sunset set the mood. In between my happy hour priced mojitos, I watched the last burst of color before the clouded night turned to darkness. And since, I particularly enjoyed watching the boats navigate the lake I  wanted to capture one in the image. Enjoy. Happy Sunset Sunday.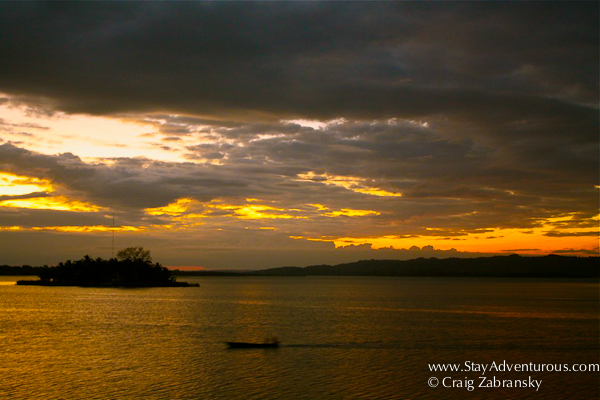 Stay adventurous, Craig