The small hills, narrow streets and colorful architecture can confuse. Visitors may believe they are on holiday somewhere in the Mediterranean instead of in Flores, Guatemala. To further the confusion, cafe Il Terrazzo offers tasty Italian fare with great views of the water.
With a 2 for 1 happy hour special,  a view of the sunset on Lake Peten, a chef trained in Italy, and an open air kitchen the cafe did delight.
I ordered something very simple. A simple pasta dish. I didn't expect much and thought the happy hour mojitos might make any dish delicious.  Yet, I followed the waitress recommendation and especially enjoyed the sauce. It was so fresh.
tip:  Il Terrazo is on a second floor and the extra height provides an even better vantage point to watch the sunset on the lake. I recommend the restaurant when your travels take you to Flores, Guatemala.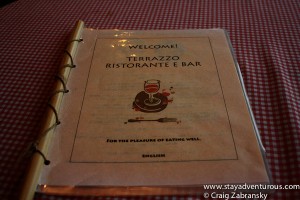 stay adventurous, Craig
This post is part of the culture through cuisine on Guatemala. It is the third post of five for the series.