This year I will miss an annual tradition. This weekend I will not be there to support the thousands who lace up and run the NYC marathon from the sidelines. But even from a distance (I am in Mexico) I will take a moment on Sunday to cheer.
To mark the occasion, I decided to republish a post I wrote last year for the Gainville blog. I hope you enjoy it. And I trust you will now understand why I love the New York City Marathon.
Good Luck to all the runners as 26.2 miles is quite adventurous in my book.
Weekends in New York always make a great story. This past weekend was no different.
The village's flamboyant Halloween parade, countless city establishments packed with Yankee fans rooting for their team in the World Series (remember this is last year) , not to mention standard Friday night fine dining, Sunday brunches, Broadway Shows, and much more. Eventful indeed.
Yet, to many who love the city, this weekend was not about any of that – it was simply marathon weekend.
The race begins on Sunday morning in Staten Island where 40,000 runners from all over the world start their 26.2-mile journey. Through five boroughs they run bringing together a community, and a city. Considered one of New York's most cherished traditions and one of the world's most popular marathons, I discovered that the race brings out the best in us (even as spectators).
I never truly appreciated the event until my Dad entered. He always wanted to run the race, and three years (now 4) ago in his 60s, he competed and completed the milestone. What I discovered on that autumn day remains with me today, I didn't just cheer for my father… I cheered for all the runners.
As a spectator you can't help yourself, you cheer. You cheer for your friends and complete strangers. You cheer for countries, causes, and even costumes. Whatever a runner wears on their T-shirt, duck-tapes on their shorts, or writes on their legs – you cheer for it. You let them know you are pulling for them to finish.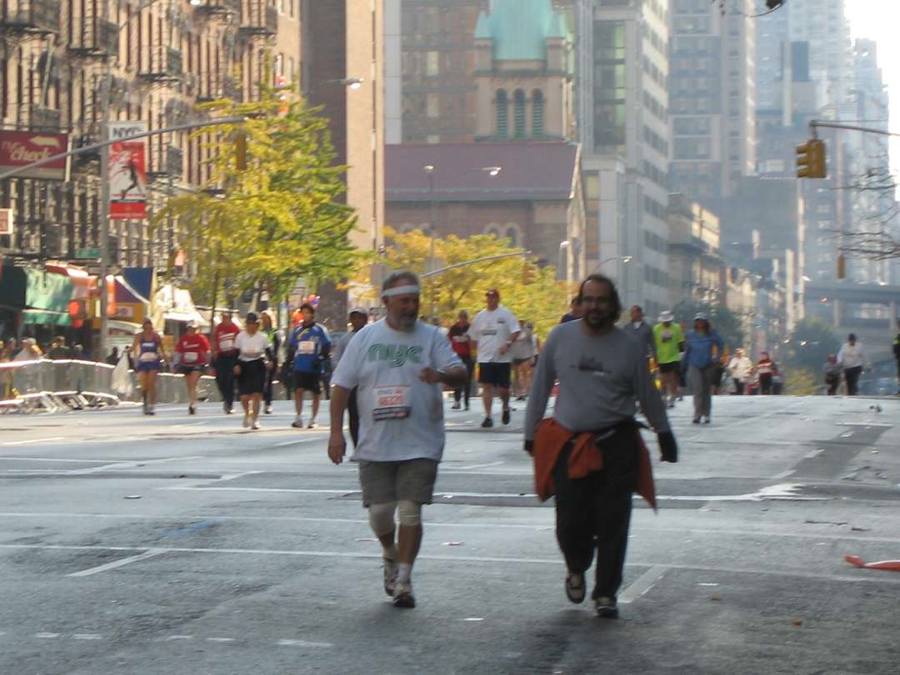 Plus, they hear you and acknowledge your support. They say thank you with a smile or a thumbs up and some even pick up their pace. You give them the fuel they need to continue. It's not New York's famous water credited for its pizza and bagel making magic that replenishes the runners, but the course's cheerleaders.
So this year again I returned to Central Park in the late afternoon, six hours after the race began. There on the course's final mile, I cheered loudly for people I've never met. I encouraged runners to finish the race, to complete their NYC marathon. I let them all know, by any means possible that I appreciate and applaud their tremendous effort.
After nearly an hour of support, with the sun starting to set I walked home. Through the park I admired the fall foliage and the leaves as they gracefully let go allowing the wind to carry them off. Then I realized during the race we all let go too. We let go of any prejudices and root for everyone. The fans of New York pull for all the runners, all shapes and sizes, all colors and creeds. The city roots for human accomplishment. To me, that represents the very core of the Big Apple and one of the reasons I continue to call it home.
So congratulations to all who ran the race this year. And for those running next year, I'll be back in the park cheering for you too. And hopefully I'll see a few more of my readers by my side.
Stay adventurous, Craig