As any New York coffee aficionado will tell you, it's not just the beans that makes a great cup of coffee, no, the setting and the scene also add flavor to the perfect cup of coffee in the city.
Well, maybe not every aficionado but certainly this New Yorker believes the place and setting are much more important than any milk, sugar, or heaven forbid spice. And through my years calling Hell's Kitchen my New York City home, I've developed a few favorite locations to take a coffee with locals and also visitors.
So if you like a good cup of coffee and need a good setting, you may want to select your next New York City hotel on west side to try some of the best places for a cup of coffee in New York City.
Sitting on the Green Chairs of Bryant Park
Passing time on the iconic green folding chairs of Bryant Park is a must. The scene, the vibe, the energy and the people watching make it one of my favorite places in New York City. Relaxing in this city oasis made the walk from Hells Kitchen through Times Square worth the effort.
Whether you bring a book, a laptop, or plan to meet someone to converse business or pleasure, a stop in Bryant Park for a coffee is a must on any (and all) trips to New York City.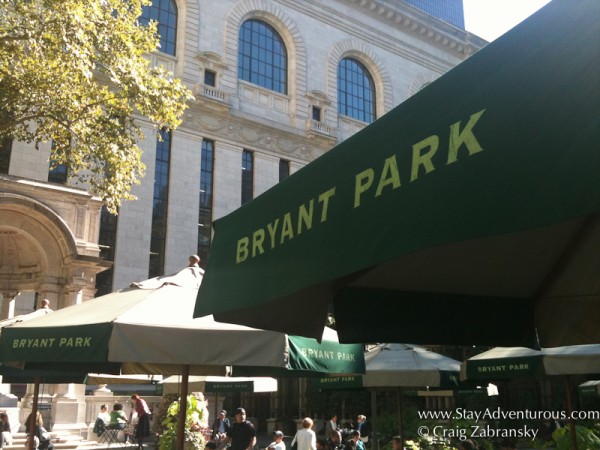 NYC Location: 40th – 42nd St; between 5-6th Avenue
Coffee spot: I normally go to Dean and Deluca on 40th and 5th Ave and get a bagel too, but plenty of options exist with in a block of the park to order a coffee to go and sit in the park.
When its best: Late Spring (after the grass "grows" and lawn is green) through to late fall (before winter holiday shops arrive) .
The Views of Times Square from Above
The Marriott Marquis is in the center of the Times Square action, but heading up to the 8th floor lobby is a perfect escape and perfect chance for another great cup of coffee. It's a chance to avoid the crowds and chaos of Times Square and relax.
Inside you to walk to the opposite side of the tube elevators and stop in the seemingly empty lounge before it opens at 5pm. You'll may see a see a sign "closed" but they often let "guests" conduct business or hold conversations here if its not reserved for a private event. I've made my way to the glass many times. Always gets a smile.
NYC Location: 45th-46th on Broadway in Times Square.
Coffee spot: There 8th floor giftshop doubles as a Starbucks coffee serving bakery. A bagel and coffee maybe "expensive" but nothing is cheap in Times Square.
When its best: All year before 5pm when its "accessible." It's especially great when weather is not cooperating especially on cold winter days and those hotter than Hell's Kitchen dog days of summer.
The Central Park Coffee Pit Stop
Central Park is a place visitors want to see when coming to New York and Hell's Kitchen is close, especially via a west side subway. Whether it's to a museum first or straight to Central Park, my typical tourist route recommends a specific coffee stop.
Steps south of "Strawberry Fields" and Imagine, both popular New York City Central Park spots, you arrive to another city oasis and chance to sit, relax, and take in the beauty of Central Park with a cup of coffee. Bonus; depending on the mood, you can can even order an organic beer.
NYC Location: Inside Central Park at about West 69th St
Coffee Spot: The Le Pan Quotidien also serves a very shareable chocolate Chip Cookie.
When its best: Since I prefer the outside seats with a view, best is late spring through the New York City Marathon weekend (November).
Local NYC Coffee Shop
Let's face facts, a coffee snob prefers his or her coffee doesn't come from a chain. Local places offer character and for many that character has a taste, a good taste. This is where you'll find the best cup of coffee in New York City.
My old neighborhood, Hell's Kitchen in Midtown West, had its share of coffee shops. One served over twenty types of homemade biscotti and didn't allow laptops. Also, there is the famous Amy's Bread. Even an early visit to Amy's often meant a long line, usually filled with guidebook savvy tourists.
Yet, my favorite, and place is also where I purchased my coffee beans. (All coffee snobs of course buy whole beans and grind at home). It held character coffee and often characters too with its proximity to Port Authority Bus Station. With knowledgeable attendants (fellow coffee snobs), great global selection, it was a weekly visit for beans and a coffee of course, one of the best cups of coffee in New York City.
NYC Location: On 9th Avenue and 41st St
Coffee Spot: Empire Coffee and Tea Co.
When its best: All seasons, but always seemed especially festive through the holidays… maybe I purchase too much coffee for family and friends.
The Best Cup of Coffee in New York
So, as with any list of best places, taste matters, and my taste includes the sights and sounds… and the setting. My list may not include your favorite and these places were selected more for the escape, the chance to appreciate not just the flavor of the beans or a coffee, but the flavor of a city; the flavor of New York City.
Stay adventurous, Craig
Love coffee too? Well, tell me about your favorite place to enjoy a cup of coffee in New York City or elsewhere below.